The Walking Dead Season 5 Will Bring More Violence, Decayed Zombies And Moments From The Comics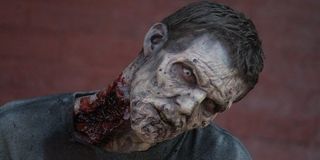 Following the Walking Dead panel in Hall H at Comic-Con in San Diego last week, we had the opportunity to sit with the cast and writers to talk about what's ahead for Season 5 of the zombie drama. Among the things we learned, the first six minutes are going to be seriously intense, and from what Norman Reedus says, it sounds like Daryl might not know exactly how he feels about Beth, but her disappearance is one more loss for him to deal with.
But we covered those things already. In fact, you can read all about the intense opening scene here, and Daryl's feelings for Beth here. Here are a few more tidbits we gleaned from The Walking Dead roundtables at Comic-Con.
Expect more moments from the comics, but more changes as well - Scott Gimple says Season 5 will be another shuffled deck between new material and stories from the comics, "There's gonna be, 'oh yeah, exactly like the comic.' There's gonna be stuff that there's no way that you could possibly guess because it isn't from the comic at all. But even in that story, there's a couple moments from the comic that we missed, that are from like a year and a half ago in the timeline. So, real Walking Dead comics nerds, they're not going to know which way the comic stories are coming. We hope to drive them insane. That is our goal."
You think the trailer shows a lot? You haven't seen anything yet. - Robert Kirkman assured us that there's much more going on in Season 5 than what's revealed in the trailer. Kirkman says this season is going to be "jam-packed."
You think the past seasons were violent? You haven't seen anything yet - Actually, Norman Reedus' exact words there were "You haven't seen nothin' yet." From everything we were told about the new season, it doesn't sound like the darkness and brutality will be toned down in the slightest.
They're fucking with the wrong people. - That's the original Rick Grimes line, referring to the Terminus people who trapped them in a railroad car. In the series, Andrew Lincoln's character says "screwing," but from what Lincoln tells us, the actual line will be included on the Blu-ray set.
The zombies are getting even more decayed. - As time passes, it stands to reason that the undead will get even more decayed as the series progresses. Scott Gimple talked about zombies with missing noses and other things Greg Nicotero has in store for the series. "Greg is introducing a new state of decay to the walkers," Gimple explains, a note of awe in his voice. "He does walkers without noses and it doesn't look fake."
And what about the spinoff series? Robert Kirkman gave us a vague update on that as well. Find out what's going on with the Walking Dead spinoff after the jump...
The spinoff series is still in the works - "I'm doing something with it almost every day," Robert Kirkman told us. "It's taking a while, but it's not taking longer than anticipated." Kirkman wouldn't say much more than that, but they're hoping to have some news very soon.
Your Daily Blend of Entertainment News
Thank you for signing up to CinemaBlend. You will receive a verification email shortly.
There was a problem. Please refresh the page and try again.