The Walking Dead Comic Con 2012 Panel Live Blog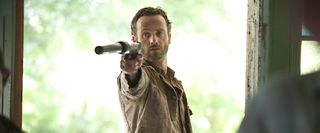 What's likely to be one of the most anticipated panels here at Comic Con is finally upon us. This afternoon, here in Hall H, the cast of AMC's The Walking Dead will take the stage for a panel to discuss the third season of the zombie drama based on Robert Kirkman's popular comic book series. We'll be live-blogging the panel, which promises a Q&A and a sneak preview of Season 3.
Set to be featured at this year's SDCC Walking Dead panel are Andrew Lincoln (Rick Grimes), Sarah Wayne Callies (Lori Grimes), Norman Reedus (Daryl Dixon), Laurie Holden (Andrea), Steven Yeun (Glenn), and Lauren Cohan (Maggie Greene), along with series newcomers Danai Gurira (Michonne) and David Morrissey (The Governor). As well as executive producer and showrunner Glen Mazzara and executive producers Robert Kirkman, Gale Anne Hurd, Dave Alpert and Greg Nicotero. Talking Dead host Chris Hardwick is moderating.
The panel should be starting in about fifteen minutes (at 1:30 p.m. PST), so stick around and hit refresh for updates!
1:32 p.m. - Chris Hardwick takes the stage and introduces everyone (Kirkman, Alpert, Nicotero, Mazzara and Hurd. (Cast not here yet). Starting with writer questions. Hardwick asks about the set. "We have a thing called a prison," Kirkman teases. Grace Walker transformed the studio into the prison. "It's pretty amazing," Kirkman says. Hardwick says it looks like an actual prison, not a backlot.
1:35 p.m. - Alpert talking about the pacing. Says the show's going to get even faster going forward. Hardwick talking abou the zombie action and the intense energy of Season 2 (after complaints about no zombies earlier in the season). Hardwick says it starts at the level of the end of Season 2 and doesn't stop. Walkers will be decomposed and hungry and "there are a lot of them." There are going to be animatronic puppets and other new visual effects in Season 3.
1:38 p.m. - Iconic moments from the graphic novel appearing in Episode 6 (written by Angela Kang). Hardwick brings up Michonne and the Governor. Hurd says Michonne kicks ass with the sword. The intensity level is incredible. "We've got our cast inoculated," she says. "The new people realize just what they're in for and what we expect."
1:41 p.m. - Hardwick asks how true they can stick to the depths of the horribleness that happens to the characters. Mazzara says its a couple of things. Staying true to the spirit of the comic. Staying raw. They have a lot of time to do it. They want to develop the new characters and have people invested. They're going to continue to do that.
Mazzara says Sunday, October 14 is the Season 3 premiere!
1:45 p.m. - They're showing us a clip from Season 3! Michonne using her sword, a helicopter takes flight (and is in trouble). Beth's singing around the fire. Walkers at the prison. Maggie screams (gives me chills!) Rick says "We have to go in there. Hand to hand. This prison is ours." Cut to inside the prison. Seems like they found a secure cell block. Shot of Andrea inside somewhere with Michonne. Scary scenes in the dark through prison corridors, trying to get past walkers. "You're not prisoners here, you're guests," The Governor (I think). "Welcome to Woodbury." Andrea telling him about the others. Implied stand-off between Rick and the Governor. "Fight the Dead. Fear the Living," the text reads. Ends with Rick firing a gun. And then goes back for one image. Merl! He said something but people were cheering too loudly to hear.
1:50 p.m. The cast in on stage. Andrew Lincoln says shooting is hot and brutal. He says Comic-Con is kind of like coming home. "Everybody is busting their guts to bring you the best season we've ever brought you this year." Sarah says she knows there are some fans who are mad at her. Norman Reedus gets a big applause. Lots of squealing girls. "Everybody loves a redneck," Reedus says. Hardwick asks him about Daryl. He says Daryl would fight to the death for these people.
1:56 p.m. - Laurie Holden says S3 will be a very different season for Andrea because she's been separated from the group. She and Michonne (refers to her as an "alpha female") become very good friends. Steven Yeun talking about Glenn. Joking about Glenn's awkwardness with Maggie. Says Season 3 will be "manning up and doing what he's supposed to be doing" for Glenn. Lauren Cohan says air conditioning sucks. They complain about being cold sometimes.
2:01 p.m. - Danai says its been phenomenal working with the cast and crew on this show. She feels warm and fuzzy all the time "regardless of the fact that I'm in an apocalyptic world." David Morrissey says he came into the show as a fan. Says the set has a fantastic crew. "People want to be there." Says joining that team is such a privilege for him. Says he always wanted to come to Comic Con. Says he wasn't prepared for the heat. They don't get that kind of heat in the U.K.
2:05 p.m. - Hardwick asks Lincoln what is it he thinks keeps Rick centered. Lincoln was reading The Road. He thinks Rick is very much at "that point." He says the time scale from that book and this season is similar. "Rick has isolated himself from the group and his marriage. That's the way that he is protecting everybody. It's a really interesting way to start the season." He says he's been going bananas. He thinks this season will be about him realizing that "he does need other people to survive."
2:07 p.m. - Fan questions. Woman tells them that the show is massive in Brazil. Asks Andrew if he could play any other role on the show. Lincoln says he's having a bromance at the moment with Norman Reedus, but then says Carl. "He is such a gifted actor (Chandler Riggs). Says his journey this season is a thrill.
2:10 p.m. - Lauren Cohan talked a bit about working on the southern drawl. Andrew says if you live and work around other people with the same dialect, he "absorbs inflection." He loves living and working in America. He practices his souther dialect while getting his coffee.
2:12 p.m. - Someone asks how they got away with Andrea grabbing Shane (in the car). Holden says, "You should have seen what we did that got cut." Everyone laughs.
2:14 p.m. - A 12-year-old fan just professed her love for Steven. She wants to know if he was stuck in a real-life apocalypse, what does he think his chances of survival are. Steven says he can be resourceful but he's also lazy. If there were a lot of attractive women around, he'd stay. If it's just a bunch of bros, he might just lay down and let one bite him.
2:18 p.m. - Another young girl fan says she's in love with Steven. Hardwick jokes that we now know Steven's demographic. "I'm gonna just throw you into the Twilight panel." Fan wants to know who's most like their panel in the show and who's least like their character. Lincoln says he looks a lot like his character. He doesn't think he's anything like Rick. Sarah says she would hope she's different from Lori in significant ways (people laughed at that). Sarah says she's been approached in public from fans angry with Lori. She says, "Uh, I'm Sarah. I play a home-wrecker on TV." Norman says he's nothing like Daryl (and includes a funny story about using bacon as fish bait). Lauren says she thinks Maggie's kind of a romantic, which she has in common with her. David says we don't know ourselves until we're really put into the fighting.
2:25 p.m. - Greg Nicotero found a woman in the crowd here at the panel and found a woman to make a zombie bust of her for the show.
2:26 p.m. - Last question is about the women. Sarah says she thinks she did everything she could to handle Shane. She told Rick to watch his back and she was right, because Shane tried to kill him. She protected her husband. And that's about it. They're showing us the trailer one more time and that's the end of the panel!
Your Daily Blend of Entertainment News
0
Assistant Managing Editor
Kelly joined CinemaBlend as a freelance TV news writer in 2006 and went on to serve as the site's TV Editor before moving over to other roles on the site. At present, she's an Assistant Managing Editor who spends much of her time brainstorming and editing feature content on the site.
Your Daily Blend of Entertainment News
Thank you for signing up to CinemaBlend. You will receive a verification email shortly.
There was a problem. Please refresh the page and try again.