Michael Rooker's Favorite Death In A James Gunn Movie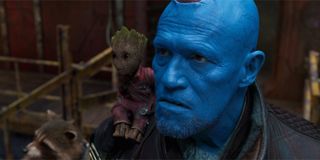 Spoilers for the movies Michael Rooker has shot with James Gunn are throughout this article. Especially if you haven't watched Guardians of the Galaxy Vol. 2 or The Belko Experiment, yet, this may not be the article for you.
Michael Rooker has always played a fan-favorite character in the Guardians of the Galaxy universe, but in Vol. 2 he amped things up a notch, delivering lines like, "I'm Mary Poppins, y'all" and giving us an emotional arc to connect with. His character Yondu notably died in the new Guardians movie just as Peter Quill was finally realizing Yondu was his true parent. And while director James Gunn does seem rather fond of killing Michael Rooker off in his movies, the actor recently told CinemaBlend's Sean O'Connell exactly which death was his favorite in a James Gunn movie. He named The Belko Experiment as his pick.
If you've seen The Belko Experiment, then you already know that Michael Rooker's character does die, yet again in a James Gunn movie. (Although we should point out this one was just written by James Gunn and directed by Greg McLean.) In the flick, Rooker's character Bud was trying to calm his friend down. His maintenance pal ended up freaking out and taking a metal pipe to his head, creating the "dent" feature Michael Rooker is talking about above.
So where did the idea for this epic death sequence come from? Of course, Michael Rooker himself. He also told us at Comic-Con that the idea came from a car accident he had.
James Gunn certainly does know how to kill off Michael Rooker. (More death spoilers, obviously.) He did it in Guardians of the Galaxy Vol. 2 and The Belko Experiment. The actor also died in Slither and again in Super. Of course, a more famous death of Michael Rooker's was when Merle Dixon died on The Walking Dead and that one certainly wasn't James Gunn's fault. Still, I think it's safe to say that James Gunn enjoys finding new and intriguing ways to kill off Michael Rooker in his movies. Perhaps it keeps happening because Michael Rooker seems to really take the news well.
I've personally never seen an actor so excited while talking about a scene where he gets killed off, and you too can check out our interview clip, below.
As for whether or not Yondu could ever show up in a flashback or a prequel in a Marvel movie, we still don't know, but Michael Rooker also noted he would be game in the event that he is asked. In the meantime, let's hope he pops up in--and especially gets killed off in--future James Gunn projects.
Your Daily Blend of Entertainment News
Reality TV fan with a pinch of Disney fairy dust thrown in. Theme park junkie. If you've created a rom-com I've probably watched it.