Carey Mulligan Will Be The Beautiful Fantastic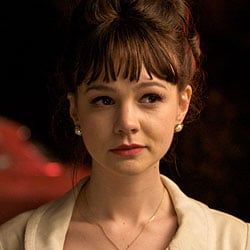 Bankside Films went shopping. Its list? The 2009 Brit List. Of the 34 scripts selected to make up the UK's version of the US Black List, the best in unproduced screenplays, they opted for Simon Aboud's This Beautiful Fantastic. And the great news for Aboud gets even more beautifully fantastic; according to Screen Daily, the film will star Carey Mulligan, Tom Wilkinson, Christopher Eccleston, Mackenzie Crook and Joanna Lumley.
It's about Bella Brown, an author who's basically a recluse. She's got no family or friends and spends the majority of her time hibernating in her compulsively tidy flat. It isn't until she ventures out to the library that she sees what she's been missing and meets Billy, a far-from-organized inventor who enjoys chaotically whipping through the library aisles.
Directorial duties fall to Terry Loane with Kami Naghdi of Constance Media set to co-produce alongside Matt Treadwell. Principal photography will kick off in March of 2010 in Edinburgh, Scotland and in Cologne, Germany.
With all the Oscar buzz surrounding An Education, it's clear to see why This Beautiful Fantastic is drawing attention. On top of getting to see Mulligan's career blossom, Wilkinson will likely shine as usual. Minus the movie's flaws, Eccleston made a fine Destro in G.I. Joe and who can forget Crook in the Pirates of the Caribbean films? You know, the bumbling pirate with the habit of losing his eye? As for Lumley, I don't know if I should point out the one film I know her from. Okay, why not? She plays the hostel clerk in EuroTrip. Remember? "Hello, and welcome to Amsterdam's finest and most luxurious youth hostel. We feature one medium sized room containing 70 beds which can sleep up to 375 bodies a night."
All joking aside, Brit List productions are always worth keeping an eye on. The 2007 edition was topped by The Men Who Stare At Goats, which hits theaters November 6th. 2008 top spot holder, the John Lennon biopic Nowhere Boy, just wrapped up the London Film Festival, today in fact.
Your Daily Blend of Entertainment News
Staff Writer for CinemaBlend.