Cars 2 Character Showcase Lets Finn McMissile Do His Tom Cruise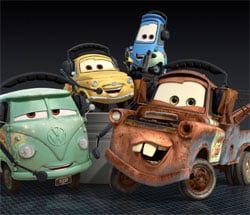 Pixar movies mean great characters. What better way to advertise their latest, than by letting you have a closer look at its stars? The filmmaking geniuses behind Disney's high-watermark animation appendage have begun releasing character posters and even two character turntable videos for Cars 2.
It's a little bit of old and new in the videos and posters embedded below. First up, a new character to the Cars universe: Finn McMissle. He's voiced by Michael Caine in Cars 2 and seems to be an elderly member of British intelligence. Watch him do his Mission: Impossible thing in the video turntable below:
Next up, a familiar face. Lightning McQueen is back as the star of Cars 2, and he still knows how to make his stickers shine.
Disney should be sending more character turntables our way in coming weeks, while you wait here's still versions Lightning McQueen's Cars 2 pit crew done up in poster form. Click the one sheets for high-res versions:
For still more Cars 2 character posters visit our complete gallery right here.
Your Daily Blend of Entertainment News
Thank you for signing up to CinemaBlend. You will receive a verification email shortly.
There was a problem. Please refresh the page and try again.