Cast Finalized For Found-Footage Bigfoot Pic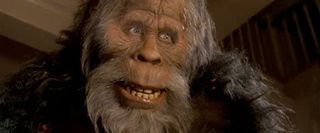 Writer-director Eduardo Sanchez made film history in 1999 as half of the creative team behind the found-footage horror feature that inspired countless imitators, The Blair Witch Project. Since then, Sanchez has continued in horror, but avoided found footage. However, none of his successive movies drew the kind of praise or caused the kind of mass hysteria of his witchy debut, which may explain why Sanchez is heading back into the woods and returning to found footage for his next effort, Exists.
Written by Sanchez's recurring collaborator Jamie Nash (Altered, Lovely Molly), Exists is a horror-thriller that follows a group of friends on a camping trip in the forests of Texas that takes a frightening turn when they discover they are being stalked by the elusive but deadly Bigfoot. With days to go before the picture goes into production at Spiderwood Studios in Elgin, Texas next week, Variety reports the Sanchez has finally cemented his cast.
Dora Madison Burge, Samuel Davis, Roger Edwards, Chris Osborn, Denise Williamson have recently signed on to play the terrorized campers, joining 6'7" character actor Brian Steele (Hell Boy), who has been committed to play the project's monster since last year. For Steele, the role will be a sort of homecoming as he made his screen debut in 1993 playing the titular Sasquatch of the Harry and the Hendersons TV show, a spin-off of the fondly remembered family adventure of the same name. But, Exists will be a change of pace for Steele, as Harry was a Bigfooted vegetarian, not one who preyed on whatever unfortunate nature enthusiast stumbled upon his path. Though with a long list of hulking baddies to his credit—including Predators and a bevvy of Hellboy beasts—he's surely up to the task of tackling such a legendary monster.
Exists is the second film being produced under Haxan Films and Amber Entertainment's multi-picture collaboration deal. The first was notably Sanchez and Nash's Lovely Molly, which snagged spots at the Toronto International Film Festival and SXSW. That horror-thriller that centers on a young newlywed plagued by painful memories upon moving into her late father's home will hit theaters May 18th.
Your Daily Blend of Entertainment News
Staff writer at CinemaBlend.
Your Daily Blend of Entertainment News
Thank you for signing up to CinemaBlend. You will receive a verification email shortly.
There was a problem. Please refresh the page and try again.