Channing Tatum Confirms 21 Jump Street Sequel In The Works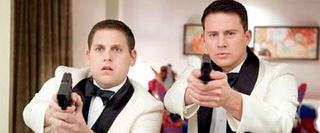 Even before 21 Jump Street made its debut at SXSW last spring, Jonah Hill was insisting Columbia Pictures had given him and his co-writer Michael Bacall the greenlight to pen a sequel. At the time, it seemed a presumptuous move as a comedy based on an '80s cop drama about two undercover narcs posing as high school students didn't seem all that promising. But Hill and co-star Channing Tatum won over audiences and critics alike.
Raking in more than $192 million worldwide, Columbia's early development of 21 Jump Street 2—not the actual name, but for the sake of discussion let's go with it—proved a shrewd move. Yet little has been heard about this sequel since then. But while Tatum has continued his 2012 box office domination, bounding from the wildly successful romance The Vow to 21 Jump Street to Steven Soderbergh's second theatrical release this year Magic Mike, he has taken to Twitter to assure fans he is pumped to return Jump Street. Check out his tweet below:
Channing Tatum: a man of few words, and serious star power.
Presumably, at this point the script is still in development, so there's no sights yet on when 21 Jump Street 2 might hit theaters. But in the mean time audiences will have plenty of chances to check out Tatum.
The star who recently wrapped on his third collaboration with Steven Soderbergh, a crime thriller called Bitter Pill, will hit theaters next spring, reprising his role as the hard-jawed Captain Duke Hauser in G.I. Joe: Retaliation. He's also set to produce and star opposite Dustin Hoffman in The Contortionist's Handbook. Plus, he's gearing up to be the hero of Roland Emmerich's latest D.C.-set action epic White House Down, and co-star opposite Mila Kunis in the Wachowski sibling's next venture Jupiter Rising. Basically, Tatum is set up to shoot his star to a whole new stratosphere.
Staff writer at CinemaBlend.
Your Daily Blend of Entertainment News
Thank you for signing up to CinemaBlend. You will receive a verification email shortly.
There was a problem. Please refresh the page and try again.