Channing Tatum Getting Tattooed And Pierced For Ron Howard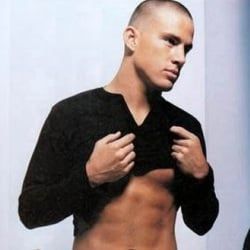 So you think Channing Tatum might actually be able to show some acting talent if he could just work with a good director? Yeah, me too. I'm not sure why I've got such a soft spot for the beefcake actor, particularly after he's made me suffer through nonsense like Dear John, but I've been rooting for him for years now. Taking a role in Steven Soderbergh's Knockout was one step in the right direction, and now he's made another one-- THR reports Tatum is joining the cast of Ron Howard's untitled infidelity project, which at one point was known as Cheaters.
Better yet, Tatum is going to be stepping far away from his nice, clean-cut Southern guy schtick. The story is about a man, played by Vince Vaughn, who discovers that his best friend's wife (Winona Ryder) is cheating on him; the lover in question is none other than a tatooed and pierced Tatum. It may be completely wrong to root for the nice-guy boyfriend of Dear John to turn into a two-timing scumbag, but if Tatum is ever going to prove his chops to people other than me, this is a great place to start. The movie, written by Alan Loeb, starts shooting in Chicago this June, and those are some set photos I absolutely cannot wait for.
Your Daily Blend of Entertainment News
Staff Writer at CinemaBlend