Chris Evans Replaces James Franco In Hitman Flick The Iceman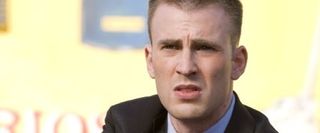 Chris Evans knocked it out of the park this past summer by proving that 1) he can play more than the wiseass, and 2) with the right actor, you actually can make Captain America work. Having liked his more serious turns in flicks such as Sunshine and Push, I was already convinced of the former, but I was definitely relieved by the latter. He'll be donning the stars and stripes again for next summer's much-anticipated Avengers movie, but he's also just signed on for a project that will let him explore a less patriotic, considerably darker subject matter. Deadline reports that he has signed on to star in the hitman movie The Iceman, taking over a role that was previously going to be filled by James Franco.
Based on Anthony Bruno's book, The Iceman: The True Story of a Cold-Blooded Killer, Iceman is a biopic focused on the life of mafia hitman Richard "The Iceman" Kuklinski. The lead role of Kuklinski is being played by Boardwalk Empire's Michael Shannon, alongside a cast that also includes Maggie Gyllenhaal, Ray Liotta, David Schwimmer, and Elias Koteas. Evans will now take over the role of Robert Pronge, Kuklinski's mentor assassin.
Deadline doesn't have any other details of note, but Evans' casting does raise a curious question. At 30 years old, Evans is several years younger than Michael Shannon's 37. While Franco is 33, Shannon is still noticeably older. It seems an odd choice to cast a "mentor" character that's younger than the mentee. Perhaps the movie will make use of flashback structure to show us the early days of Kulkinski's training? Or maybe the real guy was genuinely trained by a younger guy. Maybe we're just supposed to squint and try not to notice?
The Iceman starts production next month, loosely targeted for a 2013 release.
Your Daily Blend of Entertainment News
Thank you for signing up to CinemaBlend. You will receive a verification email shortly.
There was a problem. Please refresh the page and try again.