Comic Con: San Diego Trolley Signs Translated Into Klingon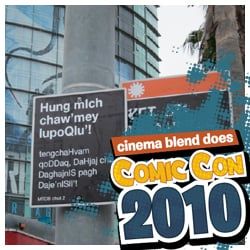 By now, given the intense kickoff of our Comic Con 2010 coverage, you may have noticed that the viral marketing doesn't stop at the convention center. The streets of San Diego are given over to the Con, including posters for upcoming films, hot marketers, and even some viral marketing that might be so subtle it goes unnoticed.
Probably only the most hard-core Star Trek nerds will realize that the signs for the San Diego trolley have been translated into Klingon, but given how many Star Trek nerds wind up at Comic Con, it's probably well worth the effort. Take a look at two of the signs below, and if you're a Klingon export, feel free to chime in with a translation. I don't know if Klingons smoke cigarettes or not, but they're certainly not allowed to at Comic Con.
You are free to assume that these signs are a very, very early sign that Klingons will be part of Star Trek 2-- hey, somebody had to pay for them, and it may well have been Paramount-- but we're just going to take it as a fun prank until J.J. Abrams proves us wrong.
Staff Writer at CinemaBlend
Your Daily Blend of Entertainment News
Thank you for signing up to CinemaBlend. You will receive a verification email shortly.
There was a problem. Please refresh the page and try again.