New Creed Trailer Makes It Look Like Rocky 7, But That's Not Terrible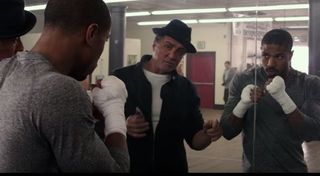 Warner Bros. has unleashed a new Creed trailer, featuring Fantastic Four's Michael B. Jordan as the son of Apollo Creed. While the first footage did well in drumming up buzz, round two seems to be all about linking this spin-off to the overarching franchise, Rocky. But we're not complaining. Watch the Creed trailer below.
Following in the footsteps of Jake Gyllenhaal (Southpaw), Mickey Rourke before him (The Wrestler), and Robert De Niro before him (Raging Bull), Jordan got totally ripped to play Adonis Johnson — and his rippling pectorals makes him more than suited to take on the name.
Adonis Johnson never knew his father, the famous heavyweight who died before Adonis was born, but he feels the drive to box in his blood. Considering how tight this Creed trailer is tying the film so closely with the Sylvester Stallone-led series, it'll be interesting to see how they eventually address the fact that Apollo Creed was beaten to death in the ring in Rocky IV by the Russian Ivan Drago (Dolph Lundgren). Speaking of Stallone, though, he reprises his role as Rocky Balboa yet again. In Philadelphia, the site of his father's match with Rocky, Adonis tracks down the boxing icon to gain the training his unmastered ferocity so desperately needs.
As Adonis struggles to rise to the challenge and come to terms with his father's legacy, something is plaguing Rocky. The footage reveals the legendary fighter is sick, and he's losing the will to keep on going, which makes the arrival of Adonis a mutual endeavor — as the aspiring fighter needs Rocky to help him train, Rocky similarly needs Adonis to reignite the spark within him.
Despite what some might believe after watching Fantastic Four — which is a whole can of worms in itself — Jordan is one of the most talented young stars working today. He became one to watch when he broke out in Ryan Coogler's Fruitvale Station, about the gunning down of 22-year-old Oscar Grant in Oakland by the police. At the time, some denounced the fact that the film and Jordan's powerful performance got snubbed by the Oscars that year, but the actor will no doubt have another chance at the statuette. Maybe even with Creed.
Creed reunites Jordan with Coogler, who also wrote the film. He's supported by a cast that includes another one to watch, Tessa Thompson (Selma, Dear White People); Graham McTavish (the Hobbit trilogy); Phylicia Rashad (The Cosby Show); and Wood Harris, who played Bobby Cannavale's cop partner in Ant-Man.
Creed is scheduled for theaters on November 25.
Your Daily Blend of Entertainment News
Thank you for signing up to CinemaBlend. You will receive a verification email shortly.
There was a problem. Please refresh the page and try again.