The Creepy Complaint A Fifty Shades Of Grey Viewer Made To Dakota Johnson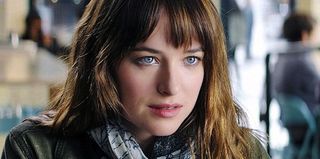 Even though it was hugely popular, earning $569 million at the global box office, Fifty Shades of Grey caused a fair number of complaints from viewers. As one of the stars of the film, Dakota Johnson, has heard, and will likely continue to hear, just about all of these, though one she encountered recently is not only creepy, but not one that you hear often about the sexually charged film.
During an appearance on the Ellen DeGeneres Show, the host asked about the "weird" reactions fans have had to the film. Johnson recounted one of the most awkward and unexpected reactions, saying:
There have been a lot of reviews and articles that have raise a lot of issues with Fifty Shades of Grey, ranging from it's depiction of BDSM relationships and sexual exploitation to the writing and acting, and too many other problems to list. One I have never encountered, and didn't expect to, however, is that there is not enough sex in the movie.
To be fair, I haven't actually seen Fifty Shades of Grey, but given the explicit nature of the source material, lots of reports about how much sex is in the film, and the fact that it came perilously close to earning an NC-17 rating from the MPAA—which would have spelled a commercial death knell in the U.S.—lack of sex is not one of the things I ever anticipated anyone to complain about. Sure, next to your average adult movie, or late night soft-core flick, there may not be all that much humping, but I think they did just fine.
Perhaps this gentleman and his wife simply expected there to be more erotic material. Still, that's generally a weird thing to share with people at work, especially as most of our employers frown on that sort of discussion with the client base. Then again, how many times do you encounter celebrities at work? Not that often, so maybe you need to take advantage of it while you can.
Though it was such an immediate and global hit, it's taken a while for the Fifty Shades of Grey sequel, Fifty Shades Darker, to really get rolling. There were clashes between director Sam Taylor-Johnson and writer E.L. James, which led to the helmer leaving, though James Foley has since replaced her in that role. Rumors that stars Dakota Johnson and Jamie Dornan were unhappy—both with their contracts and that they didn't get along on set—have also made the rounds.
Still, things are in the works, and Fifty Shades Darker is set to hit theaters February 10, 2017, with the final chapter, Fifty Shades Freed, set to drop February 9, 2018.
Your Daily Blend of Entertainment News
Thank you for signing up to CinemaBlend. You will receive a verification email shortly.
There was a problem. Please refresh the page and try again.