Dan Aykroyd And Chevy Chase Developing New Comedy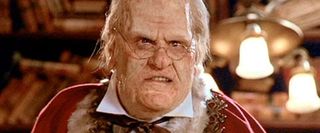 Over the years Dan Aykroyd has just become the human embodiment of a buzz kill to me. Once a truly funny comedian who was a crucial part to such comedy classics as Ghostbusters and The Blues Brothers, he has since aimed to do everything in his power to subvert and destroy all he's created by willfully - yet mindlessly - franchising these features. Don't get me wrong, Ghostbusters II is fun, but then came a weird string of spin-off TV shows, and Aykroyd's long-rumored attempts to make a third movie where our beloved Ghostbusters would be probably in bad shape, possibly in hell, and definitely without Bill Murray. Then of course, there was the ill-conceived Blues Brothers 2000, which was not only a financial and critical flop, but also pissed all over Aykroyd's inspired comedy partnering with deceased Saturday Night Live castmate John Belushi.
Basically, Dan Aykroyd has become the George Lucas of comedy. So, color me skeptical about his claims that he's working with Chevy Chase, his fellow SNL castmate, on a new project. THR clued us in to Aykroyd's Facebook page announcement:
It's worth noting that Chase and Aykroyd's last movie collaboration was 1991's Nothing But Trouble, which may be one of the worst comedies ever made. This oddity, penned and helmed by Aykroyd, stared Chase as an unscrupulous businessman whose run-in with a traffic cop (John Candy) lands him and his passengers--a sassy love interest (Demi Moore) and two eccentric "Brazillionaires"--in the booby-trapped house of a ghastly and vengeful judge (Aykroyd) who loves sausages and loathes bankers. Along with many jokes that don't land and large amounts of truly gross humor, there are two oversized idiot babies, Candy in drag, and a rollercoaster called Mr. Bonestripper that delivers on the promise of its menacing name. Now, aside from making absolutely no sense and being painfully unfunny, Nothing But Trouble was unsurprisingly detested by critics and proved a total bomb at the box office, earning only $8 million, far short of its estimated budget of $40 million.
Beyond the blight on their careers that was Nothing But Trouble, it's hard to imagine that Chase would have an interest in teaming with Aykroyd now. Chase is currently co-starring on the critically-heralded show Community, while Aykroyd's latest noteworthy role was voicing the title character in the creepy-looking blend of CGI and live-action that was Yogi Bear. Add this to the utter lack of details, and Aykroyd's choice of venue for this announcement, and my suspicion is overwhelming. I suspect, like Murray did with Ghostbusters 3, Chase will politely string Aykroyd along until he becomes too unbearable and then this project will be thankfully forgotten. Don't agree? Witness this bit of Nothing But Trouble:
Your Daily Blend of Entertainment News
Staff writer at CinemaBlend.