David Fincher Producing Biopic Of Depression-Era Photographer Dorothea Lange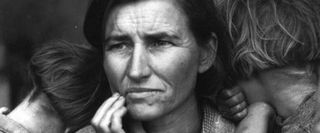 David Fincher is already at work telling the story of one of the most famous fictional female badasses, preparing to unleash The Girl With The Dragon Tattoo on us this Christmas. But as an executive producer, at least, he's about to turn his attention to a real-life woman who might have been even more heroic. Variety reports that Fincher will executive produce a biopic of Dorothea Lange, the Depression-era photographer who captured iconic images like the one you see above, pretty much defining the way we remember the Dust Bowl and the terrible poverty of the 1930s. Angela Workman has been designed to develop the script for the indie, which Leslie Dektor and David B. Ginsberg are also producing.
Lange lived in Berkeley in the 1930s, and was hired by the Resettlement Administration to photograph the many migrant workers who had moved to California in search of work-- the kind of people later fictionalized in The Grapes of Wrath by John Steinbeck, who was influenced by Lange's work. She traveled among migrant camps with her second husband, agricultural economist Paul Taylor, and according to this account, she had been sent to bolster support for establishing migrant camps in the area, but came back with what she called "negatives loaded with ammunition," and called the migrant situation not a publicity campaign for the camps, but "a major migration of people and a rotten mess."
When Lange's first photograph was published in Life magazine, it was included as part of a pictorial spread not about the desperate conditions in the migrant camps, but about the hope in new farming practices. Her name wasn't even credited; that went to the photo agency that owned the photograph. Now, of course, Lange is one of history's most famous photographers, and a subject ripe for a biopic that will hopefully be as evocative as her photographs themselves.
Your Daily Blend of Entertainment News
Staff Writer at CinemaBlend