Die Hard 4 Beaten By Legally Blonde 2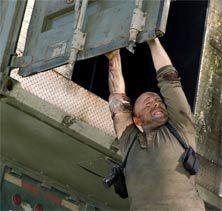 The numbers are in, and Live Free or Die Hard made mediocre money in its debut yesterday. The Bruce's new action movie opened on Wednesday to resoundingly positive reviews, and managed to take in a little over $9 million in its first day of ticket sales.
That number may seem low for a big, blockbuster like this one. But you have to remember that they've (rather foolishly) opened the movie on just some random Wednesday. It's not a holiday, and the middle of the week isn't exactly a prime time for people to go to the movies. When looked at like that, $9 million isn't so terrible a first day take for the new Die Hard film. Unfortunately when compared against the other biggest Wednesday openings of all time it ranks only 27th, one step behind Reese Witherspoon's horrible sequel Legally Blonde 2: Red, White, and Blonde. That's right, John McClane got his ass kicked by Elle Woods.
Things are only going to worse for the film this weekend with a flurry of massive, blockbuster releases opening in the next few days to kick McClane's feet out from under him. On Friday, Ratatouille opens. It's the new film from Pixar, and Pixar movies always make a mint. Odds are that Live Free or Die Hard will be scrambling for second place come Monday. By Tuesday it'll be in third place, since that's when Transformers opens. Giant freakin robots are expected to stomp all of the competition flat. There's just not much room left for McClane.
If the movie fails at the box office, it won't be because it isn't good but because Fox chose to release it at a time when there's so much competition that it has almost no hope of success. To keep it's head above water when Transformers hits, Life Free or Die Hard needs to dig deep and beat Ratatouille this weekend, and even the most optimistic prognosticators don't see that happening. Depending on how much it actually cost to make, Live Free or Die Hard could be on its way to joining Evan Almighty as one of the summer's big flops.
Your Daily Blend of Entertainment News
Thank you for signing up to CinemaBlend. You will receive a verification email shortly.
There was a problem. Please refresh the page and try again.