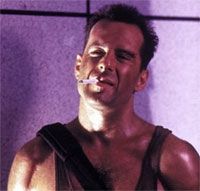 Bruce Willis recently showed up in the virtual world of Second Life (I liked it better when it failed the first time and was called "The Palace") to promote Live Free or Die Hard, and apparently MTV was there because they caught him answering the million dollar Die Hard 5 question.
"I would definitely consider doing a 'Die Hard 5,' and I would consider doing it anywhere," said the Bruce through his lame, bald, virtual avatar. But you know what he was really wanted to say was, "these people should get a life". The fact that Bruce wants to do Die Hard till he dies is no surprise, what's new is that for some reason he wants to do a Die Hard prequel as well. He says, "There was a time when we discussed doing another 'Die Hard' as doing a prequel — kind of John McClane, the early years." You'd think that would mean he can't be in it, but you'd be wrong. "But I've kind of missed that window now, unless they come up with some type of new technology where they can smooth out these wrinkles — you know, these laugh lines — that I have on my face. But I would do [a prequel] if I could; I think as an actor, it's just a matter of how I look." Well they have come up with such a technology. See X-Men: The Last Stand for reference.
Your Daily Blend of Entertainment News
Thank you for signing up to CinemaBlend. You will receive a verification email shortly.
There was a problem. Please refresh the page and try again.