Dragon Tattoo Opens Strong On Tuesday, But Is Beaten By Mission Impossible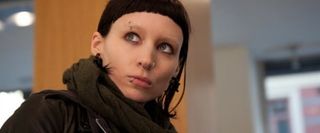 After a December that's seemed to be nothing but a long string of disappointments, the box office is hoping for a revival during the long Christmas weekend-- and it just might be getting it. According to early numbers at The Wrap, both Mission: Impossible - Ghost Protocol and The Girl with the Dragon Tattoo performed remarkably well, each of them available in theaters before the bigger holiday rush began today. Mission: Impossible had been in IMAX theaters since Friday but still managed to make $3.7 million on Tuesday, while Dragon Tattoo made $1.6 million on its opening day-- pretty good for a Tuesday afternoon when you're talking about a long, R-rated mystery movie.
This weekend both will be competing against new openers like The Adventures of Tintin-- which opens today-- and We Bought A Zoo, War Horse and Extremely Loud and Incredibly Close, all of them opening throughout the weekend. What had initially looked like a huge Friday bottleneck has spread out a little bit thanks to early bows for Mission and Tattoo, but it still seems inevitable that one of them will get lost in the mix-- my money is on The Darkest Hour, the alien invasion sci-fi film that hasn't been screened for critics anywhere. But hey, it's you guys who have the power to decide what makes it out of this weekend alive. If you're still trying to figure out what to see, you can consult our Christmas Movie Guide-- or hey, just go with your gut. There's a lot of good stuff out there this weekend, so it will be hard to go wrong.
Your Daily Blend of Entertainment News
Staff Writer at CinemaBlend