Dumb & Dumber Sequel Will Shoot In September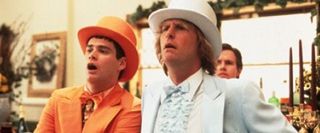 Even before they started production on the completely atrocious looking The Three Stooges, the Farrelly Brothers were kicking around another terrible idea, to make a sequel to their landmark 1995 hit Dumb & Dumber. There's already been a sequel to it, of course, 2003's misbegotten Dumb and Dumberer: When Harry met Lloyd, but neither the Farrellys nor stars Jim Carrey and Jeff Daniels were involved. This time they'd want to do it with their cast and their ideas, and Jim Carrey has actually expressed interest-- though given the current state of his career, it's hard to argue he has a lot else going on.
Now the Farrellys are back out there promoting The Three Stooges, and believe it or not, Dumb and Dumber 2 has made even more progress. Here's what Peter Farrelly said when pressed by Coming Soon:
Having just watched the stirring trailer for Aaron Sorkin's new series The Newsroom, in which Daniels stars as a brilliant and brash evening news anchor, it's really hard to imagine him returning to the Dumb & Dumber well at the same time. Then again, Daniels has never seemed afraid of challenges or roles that seemed too tricky, so maybe he'll enjoy the contrast. Either way, if Peter Farrelly's confidence is to be believed, we've got a new Dumb & Dumber coming swiftly toward us. Even without seeing The Three Stooges I can't help but dread it-- but then, I was the only 11-year-old on the planet who didn't like the first one when it came out. The more forgiving among us out there, what do you guys think?
Your Daily Blend of Entertainment News
Staff Writer at CinemaBlend