Early Dark Knight Reviews Award Godlike Status To Nolan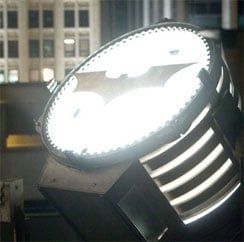 The Dark Knight was screened for critics in Los Angeles this last weekend, and if you thought the excitement over the movie was intense before… hold on to your cape and cowl. Early reviews are hitting the net, and the consensus among those who've seen it seems to be that it may very well be the best movie of the year. The rest of the critical world won't get to screen the film until a few days before the movie is released, but here's a look at what's being said about it by the Los Angeles elite. Enjoy the hyperbole overload:
"It isn't an overstatement to call The Dark Knight the most sophisticated and ambitious work of its kind." - Todd Gilchrist, IGN
"The Dark Knight is a masterpiece - an almost flawless comic book movie adaptation." - Peter Sciretta, Slashfilm
"Dark, grim, haunting and visionary, "The Dark Knight" is nothing short of brilliant, the best and scariest comic hero adaptation you are likely to see this summer season, and perhaps during the whole year." - Emanuel Levy, emanuellevy.com
"If DARK KNIGHT gets anything less than an Oscar nomination it would be a great injustice to the world of cinema. Nolan has delivered an epic masterpiece that will literally take your breath away." - Brad Miska, Bloody-Digusting
"It's the "Godfather II" of comic book films and three times more earnest than "Batman Begins" (and fuck, was that an earnest film). Easily the most adult comic book film ever made." - Kevin Smith, director of Zack and Miri Make a Porno
"All the things you never thought you would see in a Batman film are present in "The Dark Knight." Christopher Nolan's dark, disturbing sequel to 2006's "Batman Begins" pulls off an impossible task: making an epic from a movie with a man in tights." - Erik Amaya, Comic Book Resources
"The Dark Knight manages to exceed expectation with a villain so maniacal, his desire for destruction begins to make sense to the point you understand his desire for all out anarchy while you are cheering for the opposition in a war that basically boils down to one side against individual terrorism." - Brad Brevet, Rope Of Silicon
Your Daily Blend of Entertainment News
Thank you for signing up to CinemaBlend. You will receive a verification email shortly.
There was a problem. Please refresh the page and try again.