Edgar Wright Is Working On A Steampunk Charles Dickens Adaptation, Get The Details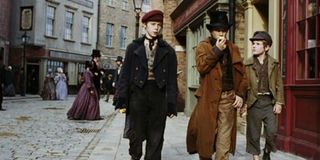 Edgar Wright has been working to fill up his plate after departing Marvel's Ant-Man. He quickly moved on to sci-fi film, Grasshopper Jungle and a rock-and-roll car chase film, entitled Baby Driver, and now his latest project will turn Charles Dickens' classic novel Oliver Twist into a steampunk adventure.
The new project, entitled Dodge and Twist stems from Oliver Twist but is also based somewhat off of a book of the same title written by former Doctor Who comic writer, Tony Lee. The story will be a be set in 19th century, Victorian steampunk England and while it does share some qualities with Lee's novel, Wright's name attached promises a more comedic element to it. According to Film Divider, the project has been in the works for a while. First, screenwriter Cole Haddon of the Dracula TV series penned a script, then Simon Beaufoy (127 Hours and Slumdog Millionaire) did a full rewrite. Now, Edgar Wright has submitted his own draft and while he does not plan to direct the film, it is still up in the air.
A couple years ago, when Haddon first took a stab at the script the idea seemed pretty interesting. The Hollywood Reporter described it as a page out of the recent Robert Downey Jr. Sherlock Holmes movies. We assume that is more of a description of the clothing in the film. But was Sherlock Holmes really all that steampunk? I mean yeah, they wore those top hats some of the time. But when I think steampunk, I think of those flying goggles and pocket watches, and not exactly the dapper RDJ look.
The idea of this new film was to re-imagine two pickpocketing rivals, Oliver Twist and Artful Dodger 20 years down the line when they get involved in an affair to steal the Crown Jewels. The basic gist of it probably still holds up, but we imagine that Wright put his own lovely twist on the story.
Ahmet Zappa (The Odd Life of Timothy Green), who first came up with the idea of the film will be producer along with Matt Tolmach (The Amazing Spider-Man). And there is still debate on who will direct the feature, as well as which screenplay will be finalized. We would love to see Wright all-hands-on-deck for a project like this. But with his plate fairly full at the moment, we'll just have to wait and see.
Your Daily Blend of Entertainment News
Thank you for signing up to CinemaBlend. You will receive a verification email shortly.
There was a problem. Please refresh the page and try again.