The Embarrassing Reason Why Most People See A Particular Horror Movie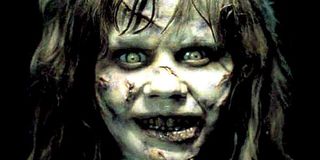 A new study has allegedly figured out why moviegoers go to see the films that they view. And while it doesn't make bad reading for fans of the drama, comedy and action genres, horror fans apparently have a pretty weak reason for picking to go and watch a scary film.
According to Google's study, which was conducted in conjunction with Millward Brown Digital, people who saw horror movies cared more about convenient showtimes when making up their minds about what they wanted to go and see. In the grand scheme of things, this is probably good news for producers and the studios that create flicks for the genre though. Basically, as long as a horror film is being shown in multiplexes then viewers will flock to see it because they are simply in the mood to be scared. This means that their audience isn't concerned about the film's reviews, its cast, director or plot. Instead if it is simply on at a convenient time then they will go to watch it. It's hardly the sort of thing that makes the movies sparkle with magic, but it does kind of make sense on a certain level
Fans of other genres have much more eminent reasons for going to see a film. Drama viewers are more inclined to watch if they are impressed by its plot; comedy fans need to be impressed by the cast; family audiences rely on positive reviews to make their decision; and action spectators care most about the film's director. That all seems rather reasonable. If you look at Interstellar, for example, most moviegoers were persuaded to go to see the sci-fi space opera because it has been directed by Christopher Nolan. Meanwhile The Imitation Game will be alluring to history buffs that are keen to know more about Alan Turing's enigma code, and those interested in viewing Horrible Bosses 2 will be pining to see the camaraderie between Jason Bateman, Charlie Day and Jason Sudeikis for a second time. All that out there, it makes the reasoning for people seeing horror films rather weak, but at the same time it's hard to look down on it when there tend to be so many breakout hits.
There are plenty of other fascinating figures to be found in the study, which is all based on data collected between January 2013 and August 2013 - including the fact that watchers of action movie trailers on YouTube are often also very interested in home and garden videos; and that 70% of moviegoers don't plan on going to the movies with only one specific title in mind. But how do you feel about the statistics regarding horror and convenient showtimes? Does it reflect how you personally go about seeing scary movies? Hit the comments to tell us what you think.
Your Daily Blend of Entertainment News
Thank you for signing up to CinemaBlend. You will receive a verification email shortly.
There was a problem. Please refresh the page and try again.