Empire Strikes Back Director Irvin Kershner Dies At 87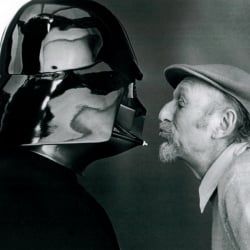 Irvin Kershner, director of the almost universally best-loved Star Wars film The Empire Strikes Back, has died at age 87, according to The Associated Press. Taking over for George Lucas to make the sequel to the mega-hit Star Wars, Kershner crafted a film that felt far more grown-up and fully realized than its predecessor, setting a standard for sci-fi and adventure films that carries on to this day.
Kershner's career also included a Bond film, Never Say Never Again, and another less acclaimed sequel, Robocop II. Though he's been retired for nearly two decades now, he was recently back on a publicity tour to help promote the new 30th anniversary book, The Making of Star Wars: The Empire Strikes Back. He did an interview last month with my friend Mike Ryan at Vanity Fair in which he talked about that movie's enduring legacy compared to the mixed reviews it got at the time:
Kershner's directing career was a brief one, but given that it managed to include one of the most adored, quoted and re-watched movies of all time, he did pretty well for himself in a short period of time. Share your favorite Empire Strikes Back memories in the comments-- or Never Say Never Again moments, if you've got 'em-- and join us in remembering a man who shaped American sci-fi, and many of our childhoods.
Staff Writer at CinemaBlend
Your Daily Blend of Entertainment News
Thank you for signing up to CinemaBlend. You will receive a verification email shortly.
There was a problem. Please refresh the page and try again.