Ewen Bremner Joins Bong Joon-ho's Snow Piercer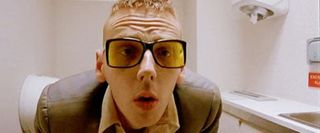 The cast of Bong Joon-ho's post-apocalyptic thriller Snow Piercer has grown by one more notable U.K. actor. Ewen Bremner, best-known for playing the sweet but simple Spud in Trainspotting, has just signed on, joining an impressive ensemble that already includes the beguiling Tilda Swinton, the engaging Jamie Bell, and the legendary John Hurt.
Snow Piercer will mark Joon-ho's English-language debut, and the writer-director behind the chilling allegorical monster tale The Host and the haunting crime-drama Mother has had no trouble snagging top notch talent. Aside from the great performers he's garnered from Great Britain, Joon-ho has also scored Captain America: The First Avenger star Chris Evans, and Oscar-winner Octavia Spencer as well as South Korean movie star Kang-ho Song to star in his train-set thriller inspired by the French graphic novel Le Transperceneige.
In the film, a train called Snow Piercer makes its way through an enveloping Ice Age while the contentious survivors on board fall into an explosive class warfare. Details on what roles these extraordinary actors will take on have been scarce, but Variety reveals that Bremner will play "a father who joins forces with Evans' character to save his kidnapped son." Could this mean that Bremner will play Spencer's husband, as she's been assigned a role as a mother who reluctantly joins the revolt to save her son?
As I'm admittedly unfamiliar with the source material, it's hard for me to say at this point where the class lines will fall. However, I do anticipate that Swinton's steely demeanor will cast her in the upper class, and suspect that Captain America will be on the side of the have-nots, which means Bremner would follow suit. Beyond that it becomes harder to pick who could be on what side of the class divide. Bell made his name on his portrayal of a blue-collar kid in Billy Elliot, but could well play a posh young man, and Hurt, as a wizened white man, could reasonably be typecast on either end of the conflict. Spencer, however, has shown such an overwhelming affability that I suspect Joon-ho will have her in a hero role, likely fighting alongside Evans. Hopefully more definitive details will emerge as the film nears its fast-approaching shoot date.
Production on Snow Piercer is set to begin in the coming weeks.
Your Daily Blend of Entertainment News
Staff writer at CinemaBlend.
Your Daily Blend of Entertainment News
Thank you for signing up to CinemaBlend. You will receive a verification email shortly.
There was a problem. Please refresh the page and try again.