Exclusive Scorpion King 3 Making-Of Clip Features Elephants And Ron Perlman In A Mullet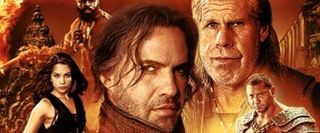 If there was one compelling reason why last summer's Conan movie was probably not going to work, it's this: The Scorpion King movies are not a billion-dollar franchise currently heading into their tenth film. If Dwayne "The Rock" Johnson couldn't endear audiences to Conan-style barbarian, nobody can, and certainly not the guy with the eye makeup from Game of Thrones. Still, while America didn't clasp The Scorpion King close to its bosom, the movie did make some $90 million bucks, and that's plenty of success to spawn sequels in what has become the drive-in movie of our age: direct-to-DVD.
The first spinoff of the Mummy spinoff hit DVD back in 2008, a prequel called Scorpion King: Rise of a Warrior that boasted wrestler Randy Couture on its cover, presumably because The Rock was off making some horrible family film. For the series' latest entry, they've ditched the wrestlers and brought in actor/martial artist Victor Webster for the lead role. Not to mention the talents of Billy Zane, Ron Perlman, and a truly epic mullet.
The Scorpion King 3: Battle for Redemption hit Blu-ray and DVD this week, and the lovely folks over at Universal sent along this look at the disc's special features. This one focuses on director Roel Reine (Death Race 2).
Your Daily Blend of Entertainment News
Your Daily Blend of Entertainment News
Thank you for signing up to CinemaBlend. You will receive a verification email shortly.
There was a problem. Please refresh the page and try again.