Exclusive Video Interview: Colin Firth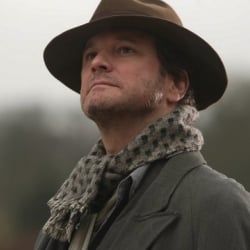 In The English Patient, Colin Firth got dumped by Kristin Scott Thomas, who had fallen in love with dashing soldier Ralph Fiennes. But in Easy Virtue, Firth gets his revenge, not only being married to Thomas, but spending most of the movie making jabs at her obsession with high society, fancy parties, and a way of life in rural England that was definitely dying out by the late 1920s.
Playing the grumpy man of the house who spends most of his time tinkering in the garage, Firth said he enjoyed being in the sidelines while the rest of the cast fluttered about the giant country house. But by the end of the film it becomes time for him to go front and center, dancing the tango with Larita (Jessica Biel), the impetuous new American daughter-in-law. Firth says at first he insisted they pick a body double for the dance, but in the end enjoyed it-- "Tango's a little easier on me than most."
Below watch our exclusive, short little interview with Firth, in which he talks about Thomas, the tango, and the more serious subject of the huge English death toll in World War I. Easy Virtue, adapted from Noel Coward's play, opens in New York and Los Angeles this Friday.
Staff Writer at CinemaBlend
Your Daily Blend of Entertainment News
Thank you for signing up to CinemaBlend. You will receive a verification email shortly.
There was a problem. Please refresh the page and try again.