Famed Composer Ennio Morricone Will Never Work With Quentin Tarantino Again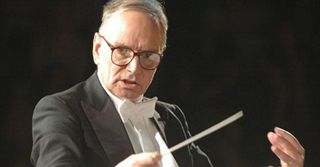 Even if you aren't well versed in the arena of movie composers, you probably recognize the name Ennio Morricone. The five-time Academy Award-nominated composer has created music for more than 500 film and television productions of the course of his career, including The Good, The Bad, and the Ugly, The Thing, and The Untouchables. He's worked with a long list of celebrated filmmakers, from Brian De Palma, Sergio Leone, and Terrence Malick, to John Carpenter, and Quentin Tarantino. And at 84-years-old, the Italian musician with a long legacy in film has no problem telling you exactly how he feels about the last director on this list.
THR reports Morricone has declared he will never work with Tarantino again because the oft-controversial director "places music in his films without coherence" and "you can't do anything with someone like that." The pair collaborated on Kill Bill 1 & 2 as well as Inglourious Basterds. However, while Morricone's song "Ancora Qui" can be heard on the soundtrack of Django Unchained, the composer had rejected the chance to work with Tarantino again on that film. He told students of a music, film and television class at Rome's LUISS University:
You could call this a case of artistic differences, but Morricone couldn't seem to stop himself from further insulting Tarantino, confessing he "didn't care for" Django Unchained, declaring it had "too much blood" for his tastes. Considering that Morricone has scored a bunch of very violent films, I find it strange that this is his criticism of Django Unchained.
Morricone is a rightly celebrated composer, who has created countless memorable themes. However, it's jarring to hear him be so dismissive of a filmmaker who is generally praised for his eclectic and inventive use of music in movies. To each his own, I guess.
Check out Morricone's "Ancora Qui" below:
Your Daily Blend of Entertainment News
Staff writer at CinemaBlend.