Fantastic Four Writer Admits Most Of What He Wrote Isn't In Finished Film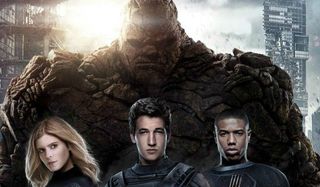 Now that Fantastic Four has officially been labelled as a catastrophic disaster for both 20th Century Fox and pretty much anyone else who was involved in its production, we've seen plenty of people try and distance themselves from it. This now includes Jeremy Slater, who co-wrote the original script alongside Simon Kinberg. Slater took to Twitter to explain just how much of his script was left in Fantastic Four, and it turns out that not a lot remained:
Jeremy Slater made a number of revelations regarding his own personal experience working on the already famously troubled production. But rather than being derogatory, slandering those involved, or explaining that he had a terrible and unsatisfying time, Slater insisted that he was just overjoyed to be able to write for these characters.
Slater explained that he'd grown up reading the exploits of Reed Richards, Ben Grimm, Johnny Storm and Sue Storm on a weekly basis, spending every single cent of his allowance on issues of the classic Marvel comic books, while also noting that his devotion was so intense that he even found himself getting into "fights" over the characters.
Slater, who was given the opportunity to write Fantastic Four after scribing The Lazarus Effect, also noted that he couldn't believe his luck that he'd been given the opportunity to write for the leading foursome as well as Victor Von Doom. And even though it ultimately failed to connect with an audience or even please critics, Slater admitted that he was still proud of what they produced.
Unfortunately though, everyone else associated with Fantastic Four hasn't been quite as supportive with the finished film. Especially director Josh Trank, who found himself facing a wave of criticism and rumors regarding his work during production. On the day Fantastic Four was released, Trank took to Twitter to insist that a year ago they had a good film, but that final cut had been taken away from him, which is why the finished product has been so heavily chastised. Fantastic Four is still currently in cinemas.
Your Daily Blend of Entertainment News