How Much Tom Hardy's Capone Made By Going Straight To Homes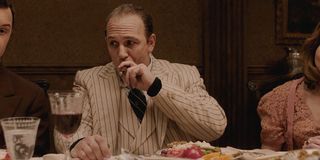 Tom Hardy's Capone, directed and written by Josh Trank, was originally meant to have a limited theatrical release before being sent to VOD. However, that quickly changed. With other movies like Trolls World Tour going straight to VOD, the studio behind Capone followed suit.
Now we're getting a little taste of how much money it made going straight to homes. According to Deadline, Vertical Entertainment, the studio behind Capone, reported that it raked in upwards of $2.5 million dollars in 10 days.
Capone first released on May 12 and within its first three days climbed to the #1 spot on the iTunes charts. So, while it certainly has momentum, a strong release, and an impressive 10-day haul, it's important to note that Capone's budget was reported to be around $20.6 million. So the movie has a ways to go before becoming profitable.
Even though Capone had a strong VOD release, it got a mostly cold reception from critics, citing some of its merits while most saw only flaws. CinemaBlend's own Sean O'Connell said Tom Hardy's performance carries the movie, the movie's critical response has been largely negative. In fact, Capone's audience and critic score on Rotten Tomatoes are consistently low.
It's impossible to know if Capone would have done better if it had a theatrical release. However, we might learn something from how other movies did. Earlier this year, Universal reported that Trolls World Tour broke records after it released the movie to VOD, also reaching the #1 spot on several charts and earning over $100 million in sales in three weeks-- a sum earned much faster than its predecessor Trolls five month run in theaters.
As one can imagine, the sudden shift of studios releasing movies directly to VOD has been controversial. After Universal announced they would put their movies direct to VOD, AMC announced they would no longer screen Universal movies. How it all shakes out remains to be seen.
The latest movie to released straight to homes is Warner Bros. Scoob! Originally intended to release in theaters on May 15, Warner Bros. decided to put it on VOD rather than push it back on the schedule. The latest reports indicates that animated movie has hit #1 for numbers of transactions.
While Capone releasing direct to VOD made quite a first impression among the movie community, so we'll have to see how it continues to perform on the charts in the weeks to come. We'll keep you updated as the story progresses.
Your Daily Blend of Entertainment News