Rian Johnson Gave Capone's Director Some Wild Advice On The Tom Hardy Movie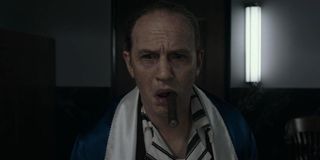 Tom Hardy's Capone has now come and gone, and the reviews are arguably mixed to downright negative, with some critics divided between loving it and hating it. But one takeaway that most can agree on is this: Capone is a pretty bizarre movie. Sounds like that wasn't by mistake, but rather, might have come from the wild advice Rian Johnson gave Josh Trank.
Once Fantastic Four director Josh Trank recently sat down with THR to talk about Capone and the negative reviews it was met with. Before Capone released, he hosted a screening for his director friends for honest feedback. And, as it turns out, rather than telling him to tone things down, they said the opposite. Here's what Josh Trank said:
Sounds like solid advice. A movie that pulls its punches tends to not have the same impact and might lose a battle on all fronts. Of course, this advice is also coming from the director that made a lot of fans angry by subverting expectations in Star Wars: The Last Jedi.
To his credit, Josh Trank knew Capone wasn't going to be for the casual moviegoer when he set out to make the movie. Considering the story is about Al Capone when he's dying of syphilis, soiling his diapers, and losing his mind, it's hard to believe it would appeal to mass audience. Still, that didn't stop the studio from asking Josh Trank if they could give it a try.
While Josh Trank may have owned the weirdness, he may also have to own Capone's failures. Earlier this year, it was reported it made $2.5 million in 10 days from releasing on VOD. That's a far cry from its $20.6 million dollar budget. It's unknown how much its raked in overall, but it's doubtful the unique gangster flick built momentum since its release.
Unlike Fantastic Four, where Josh Trank mostly abandoned the film after the critical and box office fallout, he doesn't seem to be backing away from Capone. When addressing the negative reviews, he said he wasn't surprised, but that he loves the movie very deeply and nothing can stop him from loving it.
Despite Capone being less than successful, Josh Trank and Tom Hardy are teaming up once again on a TV miniseries about the early days of the CIA. Tom Hardy will star and produce in the series. It's not yet know where this show will end up landing. Hopefully they'll screen it with Rian Johnson so he can give them some more wild advice.
Your Daily Blend of Entertainment News
Thank you for signing up to CinemaBlend. You will receive a verification email shortly.
There was a problem. Please refresh the page and try again.