Fast And Furious 7 Officially Coming In 2014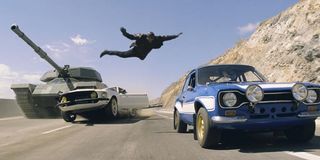 It has seemed crazy for weeks now that anybody was talking about Fast & Furious 7, given that the sixth movie in the series won't even come out until the end of May, but now we know it's not just wishful thinking. At Cinema Con today, Universal confirmed that the seventh film in the improbably huge car-racing franchise will come to theaters in 2014-- on July 11, to be exact.
That puts just over a year between Fast & Furious 6 and 7, a practically impossible window of time for most franchises (even Catching Fire is coming a full year and a half after the March 2012 release of The Hunger Games). But the seventh film in the series is already set to make some major personnel changes, with Justin Lin departing after making four of the franchise's six films, and James Wan in talks to replace him. Even The Rock, who enlivened the entire series by showing up for Fast Five, has been dropping hints that he wouldn't be able to make a summer shoot work with this schedule. With everyone needing to move as fast as possible to make a 2014 release date, does that knock The Rock out for good?
The Fast franchise, of course, has never been afraid to change up its cast-- the second film 2 Fast 2 Furious dropped Vin Diesel, while Tokyo Drift didn't include any members of the original cast. The fun of Fast Five was in uniting the entire series for a kind of dream team, but even that can only last for so long (just look at Ocean's Eleven). This July release date seems to mean some big changes for the Fast films going forward-- but we'll probably have to wait until Universal is done showing off its wares at Cinema Con to know exactly how that will play out.
Staff Writer at CinemaBlend
Your Daily Blend of Entertainment News
Thank you for signing up to CinemaBlend. You will receive a verification email shortly.
There was a problem. Please refresh the page and try again.