Fast And Furious On Water, Starring Tom Cruise?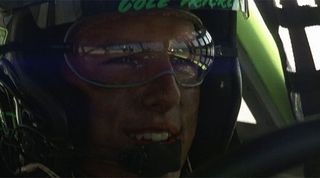 It takes a lot of guts to say, "We just did the last, indistinguishable Underworld sequel, maybe one of the biggest stars in the world wants to work with us!" But that's just what's happening with Millennium Films and directors Mans Marlind and Bjorn Stein. The duo are behind South China Sea, a pretty bombastic-sounding action film, and their sights are set high on who they want to lead the project. Someone put their big boy pants on today!
Deadline reports that an offer is out to Tom Cruise to star in South China Sea. Written by Kerry Williamson (Alex Cross) with a re-write by Michael Stokes (The Marsh), the action thriller has an absolutely classic set-up. The story follows a tough-as-nails female police lieutenant who must free her nemesis, a legendary American pirate, from custody. Not only is he the only one who can take down a team of crooked pirates, but the man's son is somehow involved as well. Okay, that's sort of ridiculously awesome, emphasis on the "ridiculous."
Marlind and Stein previously came to America to helm the genre cheapie 6 Souls with Julianne Moore, which sat on the shelf for a couple of years while they went to work on Underworld: Awakening. They're better-known in their native Sweden, where they helped create Bron, which is not a show about LeBron James, but is actually the inspiration for the current FX show The Bridge. Though if they wanted LeBron James to star as himself in South China Sea, that would be pretty awesome. LeBron James is a basketball star and a pirate in Bron, from the creators of Bron! A license to print money. Call me, Millennium.
It will take a lot to entice Tom Cruise to sign onto a project described as "Fast And Furious set on water", however. He's about to jump back into Ethan Hunt with Mission: Impossible 5: More Impossibler. After that, he's juggling a few potential films, a couple of them franchise pictures: he could rediscover the need for speed in Top Gun 2, or he could become the unflappable Jack Reacher again in Jack Reacher: Never Go Back (alternate second subtitle: Unless They're Still Money In The Property). And even if Edge Of Tomorrow underperformed ($98 million domestic, $363 million worldwide), there are no shortage of great filmmakers eager to work with such an intense, driven personality as Cruise, just as there is a whole industry that wants to help audiences rediscover why they loved him in the first place. It's unlikely Cruise would take this project (or work with Millennium), but hey, it's worth a shot, right? It's Millennium: when a big star turns you down, Nicolas Cage is always on line two.
Your Daily Blend of Entertainment News