Federico Alvarez Starts A Robotic Panic Attack For Sam Raimi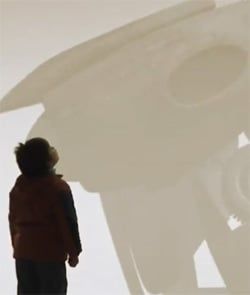 Everyone should know the story behind District 9 by now. How Peter Jackson basically built a wall around Neill Blomkamp so that instead of dealing with studio politics, he could focus on making the movie he wanted to make. Similarly, according to an article in Spanish newspaperEl Pais (which I can't even pretend to translate, so thank you Film Junk for handling the down and dirty), Sam Raimi is hoping to be Federico Alvarez' protector while he turns his own short film into a feature.
Alvarez wrote and directed the short film Panic Attack about a very angry army of giant robots going postal on Montevido, Uruguay. The film itself is pretty cool, taking advantage of great cinematography and solid low budget effects, but lacks the same substance that Blomkamp's Alive in Joburg had. Articles calling Alvarez "the next Neill Blomkamp" need to look past the shaky cam and see this film for what it really is… 'splosions. Not that this is a bad thing, but calling him the next Stephen Sommers might be slightly more accurate.
Regardless, Hollywood took notice and after an hour and a half phone conversation with Sam Raimi, they decided to make this thing into the real deal giving Alvarez the same money Blomkamp had along with the same freedoms to make his movie. Like I said when they announced the adaptations of Robocalypse and How to Survive a Robot Uprising, we're going to see a paradigm shift from people being irrationally invested in shiny vampires to people being irrationally invested in giant robots. I must say the latter is preferred.
Watch Panic Attack for yourself below.
Your Daily Blend of Entertainment News