Fifty Shades Of Grey 2 To Be Written By E.L. James' Husband, Not As Weird As It Sounds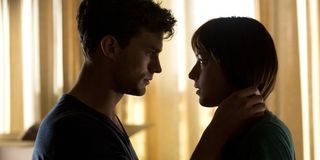 It's actually been a solid month since we've heard anything related to the voracious Valentine's Day domination of Fifty Shades of Grey. After the movie left red marks on the back of pop-culture following a ubiquitous spanking, the film's sequel found itself in a holding pattern due to conceptual chaos between original book author E.L. James and the film's creative forces. Now, it seems that could be settled, since the sequel's screenwriter will be none other than James' husband!
According to The Hollywood Reporter, the upcoming sequel to the ribald, record-breaking box-office smash will be bringing on a screenwriter who might work better with E.L. James…her husband, Niall Leonard. In an apparent attempt to mitigate the behind-the-scenes creative clashes, it appears that the studio will keep things domestic as the upcoming franchise follow-up, Fifty Shades Darker takes shape.
However, that is not to say that Niall Leonard will not be bringing a literary resume in his own right. Besides being an author of novels himself with the Crusher series, Leonard is also an experienced screenwriter, having worked primarily in television on UK-based shows like Air Force One Is Down, Wild at Heart and Monarch of the Glen. Leonard's experience and (presumed) ability to collaborate with James could ensure a smoother vision this time around. Thus, Leonard's work on the script might be a solution to the dramatic disagreements that apparently made the creative process for Fifty Shades of Grey a proverbial torture room in its own right.
Of course, as the film reaped raucous success at the box office, stories began to arise revealing that the creative process was a difficult one. Universal had apparently allowed James access, as the original book author, into the creative process of the film, which was primarily headed by the team of director Sam Taylor-Johnson and screenwriter Kelly Marcel. However, as anecdotal reports indicated, James was not quite ready for prime time when it came to compromising on the illicit, BDSM breadth of the book's content, supposedly creating clashes over ideas that would have put the R-rating critical to the film's financial success in jeopardy. However, an aspect of this story that isn't anecdotal or presumed, is that both Taylor-Johnson and Marcel will not be returning for the sequel to their superbly successful film. That, alone, speaks volumes.
Consequently, the step of adding Niall Leonard as screenwriter does prove a rather interesting step taken by Universal. As the author of the original book and creator of the franchise, James' contract likely dictates her inclusion in the franchise's creative process, perpetually. Thus, it became apparent that the cure for the disease of creative clashing would essentially call for a "domestic" safe word for the sequel. The couple have two sons, so clearly they've collaborated on other things more substantive. Plus, unlike his wife, who has never written a script, Leonard should know the structural components of the process, as well as the compromises that need to be made in order to accommodate the business model.
At the moment, no release date has been set for Fifty Shades Darker, especially since potentially contentious and expensive negotiations with stars Dakota Johnson and Jamie Dornan are reportedly just getting underway. However, a date sometime in 2017 is a projection that is generally believed.
Your Daily Blend of Entertainment News
Your Daily Blend of Entertainment News
Thank you for signing up to CinemaBlend. You will receive a verification email shortly.
There was a problem. Please refresh the page and try again.