Fifty Shades Of Grey Author E.L. James Shared A BTS Photo For Freed's Anniversary, And It's Crazy How Much Time Has Passed
Fifty Shades Freed hits its five-year anniversary.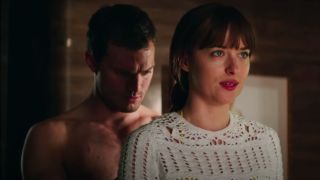 (Image credit: Universal Pictures)
Can you believe it's been five years since the conclusion of the Fifty Shades of Grey trilogy opened in theaters? Fifty Shades Freed had us say goodbye to Christian Grey and Anastasia Steele as they embarked on a new life together. Fans of the book had the chance to see its memorable wedding scene and, of course, Christian's abs. To further commemorate Fifty Shades Freed's anniversary, the book's author, E.L. James, shared a behind-the-scenes photo that will send you genuine nostalgia feels.
Fifty Shades Freed showed Christian and Anastasia getting married and ready to share a life together full of love, as well as plenty of sexy moments. But their happiness was threatened by Anastasia's former boss, who began to stalk her. E.L. James posted a behind-the-scenes cool throwback wedding photo on Instagram that she took on the set of the film adaptation with a reminder of its five-year anniversary.
That really is a beautiful photo. It was a breath of fresh air to see Christian and Anastasia tie the knot considering the franchise started with Christian not wanting to get emotionally attached to Ana despite his growing feelings for her. Here's a fun fact for you about how Anastasia's wedding dress came together - it was a collaboration between costume designer Shay Cunliffe and the film's female lead, Dakota Johnson. They were searching for a look that would make Anastasia sexy, and modern, but classy at the same time. With just one version of the costume made, this dress was perfect for the momentous occasion. While the wedding scene may have looked beautiful and heartwarming to some, Christian Grey's Jamie Dornan thought it was so silly to give vows to someone you're not actually getting married to, but they do call it acting for a reason.
Certainly, though, you know it's not a Fifty Shades of Grey movie without its steamy sex scenes. However, these sensual moments were filled with challenges. They had to be filmed back-to-back due to the scenes taking place in the same locations, like the Red Room, the boat house, the shower and more. It also doesn't help that Fifty Shades Darker and Fifty Shades Freed were filmed simultaneously, so it was best to knock those sex scenes out of the way. The hardest sex scene for Dakota Johnson was when she was blindfolded with her hands and legs handcuffed towards a gate feeling like her senses were robbed from her. Luckily, the two stars were able to work like a team through these uncomfortable situations, like how Johnson gave Dornan advice on a sexy way of taking off a woman's panties. With them both being in the same boat awkwardly performing these BDSM scenes, it helps to be on the same wavelength as one another.
Many uncomfortable BDSM scenes later, it is still very hard to say farewell to a franchise you worked on for three years with the same cast and crew. When the Irish actor said goodbye to Christian Grey, he had a mixed reaction about leaving behind his beloved cast and crew but also felt it was nice that the romance franchise has finally concluded. This makes me wonder if he kept any of the "wee-bags" that he had to wear from Fifty Shades Freed as a souvenir once filming was over.
Five years later and Fifty Shades Freed is still just as memorable as when it first premiered in theaters back in 2018. Check out our 2023 movie releases so you can follow the future film endeavors of Jamie Dornan and Dakota Johnson.
Your Daily Blend of Entertainment News
Just your average South Floridian cinephile who believes the pen is mightier than the sword.