Fifty Shades Of Grey Just Got An Honest Trailer That's Pretty Accurate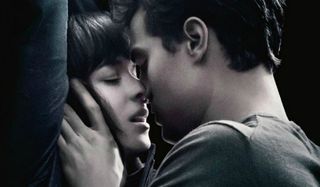 There are many people who went to go see Fifty Shades Of Grey earlier this year and were left feeling so underwhelmed that they had every right to buy a bucket-load of porno to satisfy their sexual hunger without being judged straight after they left the cinema. It really was that lame. So you'll be relieved to hear that the good people over at Screen Junkies' Honest Trailers series have now taken aim at the erotic drama that completely lacked any eroticism or drama by lambasting Fifty Shades Of Grey for just how awful it was.
While the above doesn't get me back the two hours that I wasted in the cinema watching Fifty Shades Of Grey, it does help to highlight just why the adaptation was so awful. In fact, Honest Trailers immediately point out that Sam Taylor-Johnson's Fifty Shades Of Grey movies was at times unwatchable simply because E.L. James' Fifty Shades Of Grey book was for the most part unreadable.
James' admission that she wrote parts of Fifty Shades Of Grey on her blackberry explains why the story is so truncated and lackluster. She must have either run out of battery or had to get off for her stop before she wrote down the really juicy or competent parts.
Fifty Shades Of Grey revolves around the burgeoning, sexual relationship between Anastasia Steele (Dakota Johnson, the only person who came out of the film without any credibility left) and Christian Grey (an immensely dull Jamie Dornan) as they threaten to partake in a BDSM relationship, but mostly just kind of slap and tickle each other while occasionally partaking in rudimentary missionary sex. Yes, there's a bit of nudity, but there certainly was an expectation of quite a bit more from the film.
Oh wait, they do get up to a lot of one thing though: contract negotiating. That's right: the pair intimately and meticulously leaf through every single page of various contracts, non-disclosure agreements, conditions, and clauses, while they also exchange numerous texts and emails discussing these details too. It's raunchy, raunchy stuff. Sorry, that's a typo. It's lazily written, self-harm inducing stuff.
Unfortunately for the human-race, Fifty Shades Of Grey managed to gross $569.5 million at the box office, which is on top of the 100 million copies that the original novel sold across the world too. Of course, this means that Fifty Shades Darker and Fifty Shades Freed, the follow-up books to the original, are already being developed as well, and will be out in 2017 and 2018, respectively.
Your Daily Blend of Entertainment News
Thank you for signing up to CinemaBlend. You will receive a verification email shortly.
There was a problem. Please refresh the page and try again.