Five Best Moments From The 2011 MTV Movie Awards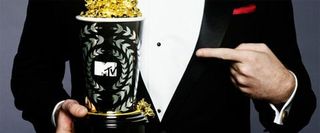 I'm going to take this moment to be brutally honest: tonight's MTV Movie Awards were just plain awful. Host Jason Sudeikis, who is normally pretty damn funny, relied on repetitive Arnold Schwarzenegger jokes for cheap laughs, the skits were awful and every single award was predictable and/or awful (the exception being Emma Stone's win for Best Comedic Performance). Needless to say, finding five positive moments in tonight's show was a struggle.
Below you will find a list of the only events from tonight's show that didn't cause viewers severe brain damage. It's worth noting that all five moments, when totaled together, probably equal less than five minutes of the two-hour-plus program. We call them the best moments, but really it's all relative. Check out our selections below. For a complete list of winners (the people who took home the golden popcorn) and losers (all of us), head over HERE.
Justin Timberlake And Mila Kunis Grope Each Other
Presenting the first award of the night, Best Male Performance, the Friends With Benefits co-stars began by mentioning that they aren't dating and are, instead, just really good friends. Then the two actors proceeded to make both male and female members of the audience jealous as Timberlake reached out to grab Kunis' sweater puppies while she returned the favor by grabbing his twig and berries. The moment was almost ruined by Timberlake's clichéd falsetto voice, but let's be real here: public genital grabbing always gets a pass.
Foo Fighters Performance
No, their performance didn't have anything to do with movies directly, but since when are we writing off the Foo Fighters because of technicalities (also, the band was featured in a pretty sick documentary earlier this year). Performing "Walk," the new single off of their album Wasting Light, the Foo Fighters rocked the house. What is the only sad thing about their performance? They were playing for a crowd of Twilight fans who wouldn't recognize a great group like the Foo Fighters if the band stood behind them and pelted them with rocks.
Harry Potter Clip
The first trailer for Harry Potter and the Deathly Hallows: Part 2 was the definition of epic, and the clip shown at tonight's MTV Movie Awards was no different. The scene begins with Voldemort waiting in the woods for Harry to come face him, but believes he is a no-show. That is, until he walks out of the woods to face his fate. "The boy who lives has come to die": amazing.
Reece Witherspoon's Advice To Young Girls
On stage to accept this year's generation award, Witherspoon began her speech by mentioning the infamous kiss between Sandra Bullock and Scarlett Johansson (which made this list last year), but made her own memorable moment as well by delivering a bit of advice. Presumably speaking about the recently leaked pictures of Blake Lively, Witherspoon offered the following: "Hide your face if you're gonna send naked pictures." It's something the young starlets might want to keep in mind.
Gary Busey In A Hamster Ball
Sure, he was there to present an award to Twilight, but this is still Gary Busey we're talking about. Arriving to present the award for Best Picture of the Year (according to MTV viewers), Busey rolled on stage in a giant plastic bubble saying that he only accepted the job because the bubble fit through the doors. Sure, it was scripted and not natural Busey-crazy, but he may actually believe that something is wrong with his immune system and stay in that ball for the rest of his life.
Your Daily Blend of Entertainment News
Assistant Managing Editor
NJ native who calls LA home and lives in a Dreamatorium. A decade-plus CinemaBlend veteran who is endlessly enthusiastic about the career he's dreamt of since seventh grade.