The Fourth Kind Trailer: A Movie For Believers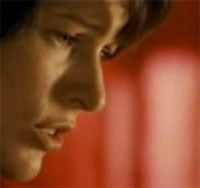 I'm probably not the right person to discuss this trailer. I'm a skeptic, the kind of guy who doesn't believe something unless he has hard evidence. The Fourth Kind is a movie for believers, a movie for people who want to believe in something so badly they'll see things which aren't really there.
Here's an example. Mid-way through the first trailer for The Fourth Kind a scientist type starts babbling on about how the ancient Sumerians drew pictures in their temples of the Apollo rockets. And up on screen flashes one of those pictures, except it looks more like a vague phallus than a rocket. Unless of course you're a believer. While I see an ancient dildo you'll probably see a fully rendered portrait of Neil Armstrong.
The Fourth Kind wants you to believe and so it sets itself up as a re-enactment of documented footage. Give them credit, some of the editing they use in the trailer to convey that is actually pretty clever. Watch the trailer below and see what I mean:
Here's the official line on the movie. Plot synopsis:
Your Daily Blend of Entertainment News
Thank you for signing up to CinemaBlend. You will receive a verification email shortly.
There was a problem. Please refresh the page and try again.