Gary Oldman, Dane Cook and Christian Slater Team Up For Something Weird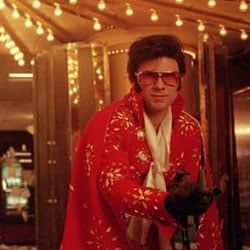 One of the weirdest casts imaginable has been assembled to front one of the weirdest concepts possible. Freefall Film is putting together an indie pic called Guns, Girls, & Gambling, a crime thriller in which Elvis impersonators, Indians, cowboys, a 6-foot-tall blonde assassin, a frat boy, a corrupt sheriff, and a prostitute pursue a stolen Indian artifact. It sounds kind of like It's a Mad, Mad, Mad, Mad World on acid.
So to make the whole thing even weirder THR says the movie will star the unlikely mix of Gary Oldman, Dane Cook, and Christian Slater. Cook is the corrupt sheriff, Oldman is some sort of "mega-contender" (whatever that is) and Slater is a guy who gets drunk and accidentally becomes an Elvis impersonator. At least Christian has Elvis experience. He played an impersonator in 3000 Miles to Graceland.
That leaves Indians, cowboys, the 6-foot-tall blonde assassin, the frat boy, and the prostitute. Based on what we know of their casting decisions so far, I'm going to guess they'll cast for those parts, in order: Don Rickles, William H. Macy, Carrot Top, Jeff Goldblum, and Betty White. That sounds about right.
Your Daily Blend of Entertainment News
Thank you for signing up to CinemaBlend. You will receive a verification email shortly.
There was a problem. Please refresh the page and try again.