Gentlemen Broncos' National Release Cancelled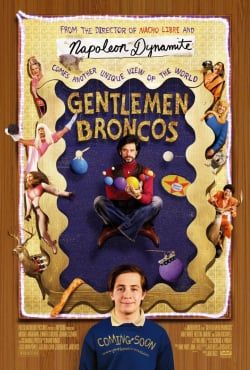 The rule of platform releases is that the movie you're releasing has to actually be good. When you've got a Juno on your hands, for example, you open it in a few theaters, get everyone in that city excited enough to tell their friends elsewhere, and open the film progressively wider as the buzz gets bigger, so that when the movie finally shows up in Columbia, South Carolina, everyone there has been dying to see it for weeks.
It doesn't work so well when your movie is a stinker, which is exactly what Fox Searchlight seems to have learned with Gentlemen Broncos. It opened in two theaters last weekend and earned a merely-OK $5,751 per-theater average. But with the reviews scathing and a wider release unlikely to bring in new fans, Searchlight has apparently decided to cut their losses and give up on bringing the film beyond New York and L.A. Roger Ebert said on his Twitter feed that the Chicago release has been cancelled, and similar notices are apparently coming in for critics in markets like Denver and Phoenix.
Get the Big Picture nicely links this disaster to an overall bad year for Fox Searchlight, which is normally the kind of studio that can make Slumdog Millionaire a Best Picture winner and make a yellow VW Bus a symbol for a tiny indie. Though Notorious was a hit early in the year and 500 Days Of Summer may get a Best Original Screenplay Oscar nod, the studio badly bungled the release of both Adam and Whip It!, two movies that deserved at least moderate-sized audiences but have managed to gross only $2.2 million and $12.6 million, respectively.
Of course, Gentlemen Broncos' failure isn't entirely Searchlight's fault-- no one could have gotten a ton of people to see that movie. But a platform release seems like a terrible idea for a movie that was getting bad reviews back at Fantastic Fest a month ago. They could have at least done what they did with Amelia, opening in 800 theaters to get whatever money they could before the bad reviews caught up with them. Broncos surely wasn't an expensive movie, and that way they at least stood a chance at $1 million, rather than the sub-million earnings they're likely looking at now.
I think everyone is willing to chalk this up to an off year for Searchlight, which is still the studio with the guts to make movies like 500 Days, and has any number of exciting projects coming up. But the Gentlemen Broncos debacle is proof that, even less than a year after running a successful Best Picture campaign, any studio can screw up.
UPDATE! Unexpectedly, only a day after announcing that the movie's national release was canceled, Fox Searchlight says it's back on. Full details right here.
Your Daily Blend of Entertainment News
Staff Writer at CinemaBlend