Will Gerard Butler And Lena Headey Return For 300: Battle Of Artemisia?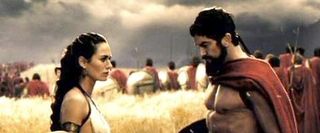 The battle to save Sparta from the conquering Persian tyrant Xerxes was one of legend. Zack Snyder's adaptation of Frank Miller's graphic novel 300 brought that battle to the big screen in a way that was sleek, bloody, and attention grabbing. Earlier this summer we learned that the 300 prequel in the works would be called 300: Battle of Artemisia and would be directed by Noam Murro. Now Movies.com is reporting that the script for the prequel includes small parts for the original film's King Leonidas (Gerard Butler) and Queen Gorgo (Lena Headey). Does this mean we'll see these actors returning to what is now becoming a franchise?
On the one hand, just because there is room in the script for the return of Leonidas and Gorgo doesn't necessarily mean that those scenes will be in the final cut of the film. Moreover, it wouldn't necessarily guarantee that Butler and Headey would definitely be reprising these roles if those characters did resurface. They could easily replace them with other actors which may even be required depending on how far in advance of the original 300 story the prequel takes place; younger actors may be needed.
But what is encouraging here is that in this article producer Bernie Goldmann didn't say there were parts in the script for "Leonidas" and "Gorgo", he said there were parts for "Gerry" and "Lena". He's specifically talking about those actors and not simply the characters they played. His familiar tone suggests that he may have already been in contact with Gerard Butler and Lena Headey to discuss this project. I would hazard that if in fact Leonidas and Queen Gorgo do show up in 300: Battle of Artemisia, Butler and Headey will definitely be the ones donning the cape and gown respectively.
Goldmann's comment about the prequel keeping the same aesthetic feel of the first film has me pumped to see it. I loved the wildly flashy, slow motion extravagance of 300 and it proved quite effective as a storytelling device. The movie was a smash hit that banked well over $400 million worldwide. Clearly Goldmann is a subscriber to the idea that "if it ain't broke, don't fix it."
Your Daily Blend of Entertainment News