Get Ready For 10 More Years Of Micro-Budget Horror Movies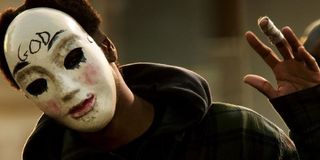 If you credited Jason Blum for single-handedly resurrecting horror as a viable moneymaker, you wouldn't be far off. Through his production company Blumhouse Productions, Blum has been churning out low-budget horror films with excellent casts, and the results have been one big fat box office hit after another. Not so shocking, Universal wants a piece of this big, bloody pie, so they've offered Blum a decade-long multiplatform deal.
THR reports Universal Pictures and Blumhouse Productions's new 10-year deal will include partnerships across NBCUniversal's businesses, including Universal Television and Universal Cable Productions. It's a first look production deal that essentially means future Blumhouse movies will first be offered to Universal for distribution. This will include the future of the Sinister franchise. While the first film was distributed by Lionsgate, Universal has secured its sequel for its Focus Features branch.
But that's not all. Blum has also been contracted to help develop content for network and cable TV shows, as well as for digital properties "and more."
Blum is best known for producing horror franchises like Insidious, Paranormal Activity, Sinister, and The Purge. However he's also been working his way into television with projects like Syfy's Stranded, ABC's The River, the upcoming science-fiction drama series Ascension as well as the forthcoming crime-drama Eye Candy.
This news comes on the back of Blum's latest release, The Purge: Anarchy, generating a stellar opening with $29 million. As a $9 million movie, the sequel to the underwhelming but profitable 2013 release made its budget back within days of its debut. The Purge: Anarchy was a Universal release, as was its predecessor. And with Blum lining up an impressive slate of micro-budgeted hit franchises while varying his filmography with passion projects like his HBO production of The Normal Heart and the highly anticipated Jem and the Holograms movie, this is thrilling news for genre fans and movie-lovers alike.
Last summer, I had the pleasure of sitting down with Jason Blum upon the release of Insidious Chapter 2. I was instantly struck by his sheer and sincere enthusiasm for filmmaking, storytelling and above all horror. At the time, I congratulated him on being added to the prestigious roster of the Academy of Motion Pictures of Arts and Science before asking if his inclusion shows a shift in the way the Academy views the horror genre. His answer holds a special relevance with this news:
With Universal as an eager supporter, Blum is poised to push the genre and its possibilities even farther. Color us bloody excited.
Staff writer at CinemaBlend.
Your Daily Blend of Entertainment News
Thank you for signing up to CinemaBlend. You will receive a verification email shortly.
There was a problem. Please refresh the page and try again.