Ghostbusters Reboot Adds Two More Original Cast Members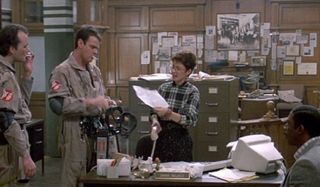 As Paul Feig wraps up the last days of shooting his Ghostbusters reboot, more news on the surprise guest roles have come to light, including a couple more original members of the Ghostbusters team. With Bill Murray and Dan Aykroyd already on board, there's now word that the reboot also added Ernie Hudson and Annie Potts to the mix.
It is still unclear the exact roles both returning actors from the original franchise will be playing. But, considering both Bill Murray and Dan Aykroyd won't be playing their original ghostbusting characters, it is safe to assume that neither Hudson or Potts will be either.
The all-female remake of Ghostbusters has certainly been front and center to plenty of flack. Hudson himself had initially commented on the idea as a "bad idea" but upon hearing the lineup of actresses, including Kristen Wiig, Melissa McCarthy, Leslie Jones and Kate McKinnon he seemed to retract his statement calling the casting: "Four fiercely funny, foxy, females busting ghosts ... phenomenal!" Who knows, maybe those comments came among learning that Paul Feig would ask Hudson aboard the project.
THR broke the news of Hudson's involvement early today, and though Sony declined to comment on whether the actor will be reprising his role as Winston Zeddemore, considering the info we've been given on Murray and Aykroyd's involvement, it will probably be a very minor role with few lines.
The Boston Herald, on the other hand, broke the news of Annie Potts involvement. Potts, who originally played the Ghostbusters receptionist in the earlier films, was also seen on the set of the movie. The Boston Herald was told that she plays a hotel clerk, which fits the trend of the original Ghostbusters crew making small appearances, but no official word on that role quite yet either.
With all the familiar faces aboard, this film may just be able to attract some of the hardcore Ghostbusters fans that were originally steered away by the idea of a reboot. Knowing that there are now four of the original actors onboard gives much bigger hope for a decent final feature. We would have loved to see the original gang back in their own ghostbusting gear, but it is nice to know that they are still involved, but allowing this new team to take center spotlight.
The Paul Feig Ghostbusters reboot is scheduled for a July 22, 2016 release.
Your Daily Blend of Entertainment News
Your Daily Blend of Entertainment News
Thank you for signing up to CinemaBlend. You will receive a verification email shortly.
There was a problem. Please refresh the page and try again.