Global Audiences Spent A Record-Breaking Amount Of Money At The Movies In 2015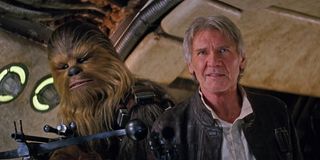 There's no business quite like show business. It's an old adage, but we will be damned if doesn't ring as true as ever. The numbers have come in, and the money counted, and it's now clear that 2015 proved itself to be an amazing year at the box office. We don't mean "kind of amazing;" we mean, the unprecedented, record-shattering type of amazing.
THR reports that – while not all of the figures have been completely tallied up – the global box office of 2015 will ultimately add up to a figure between $38 and $40 billion when all is said and done. North American audiences provided roughly $11 billion of those total sums – an absolute record when compared to other years. As impressive as that figure is, it's the overseas box office that really hammered home the total figure. It's estimated that somewhere between $27 and $29 billion of the global box office gross in 2015 came from foreign markets, with China's box office growing by almost 50% over last year. China has become such a box office powerhouse that even films that floundered in the west can still make a profit based solely on that eastern market.
The lion's share of the credit for these numbers can be attributed to an astonishing number of blockbusters that hit theaters in 2015. Between Furious 7, Jurassic World, and the recent release of Star Wars: The Force Awakens, worldwide box office records tumbled at staggering, never-before-seen rates. Star Wars in particular has experienced some of the greatest success, grossing over $1.5 billion in the three weeks since it hit theaters.
These figures should help ease any concern that burgeoning new technologies could somehow impede upon the success of major motion pictures. With the advent of streaming services like Netflix, and more options for home entertainment than ever before in the history of film, some people have opted to forgo the theater experience altogether. While many people have decided to stop attending theater showings of their most anticipated films – for a variety of reasons –- it doesn't change the fact that the industry is clearly as strong as ever.
As Paul Dergarabedian of Rentrak explained, the act of going to a theater to enjoy a film is an experience that crosses cultural boundaries:
So pat yourself on the back, Hollywood. You've done us all proud, but now it's time to look to the future. With the insane number of blockbusters expected to hit theaters in 2016 – from Batman V Superman: Dawn of Justice, to Captain America: Civil War, to Star Wars: Rogue One – we think another record shattering year may be on the horizon.
Originally from Connecticut, Conner grew up in San Diego and graduated from Chapman University in 2014. He now lives in Los Angeles working in and around the entertainment industry and can mostly be found binging horror movies and chugging coffee.
Your Daily Blend of Entertainment News
Thank you for signing up to CinemaBlend. You will receive a verification email shortly.
There was a problem. Please refresh the page and try again.