Godzilla Being Written By Batman's David Goyer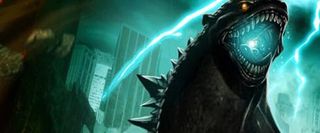 Legendary Pictures is full steam ahead with their new Godzilla remake, and before you roll your eyes at the thought of another one of these movies, consider that it's kind of a tradition. Did you know that Godzilla is the longest running franchise in movie history? You'd know that the giant lizard has already stomped his way through 28 movies and counting if you'd taken a look at our new infographic.
They already have the perfect director, in Monsters filmmaker Gareth Edwards. Now they've gone out and hired a genre-appropriate writer to crank out the script. Deadline says David Goyer, fresh off writing the new Superman movie Man of Steel, will now come up with a way to make us want to watch another movie about Godzilla.
People started giving David Goyer a lot of credit for being a great writer of genre material after he had a hand in Batman Begins. They started taking him even more seriously after The Dark Knight, even though he had nothing to do with that one. David Goyer co-wrote the Batman Begins screenplay with Christopher Nolan. For Dark Knight Chris co-wrote the screenplay with his brother Jonathan instead. Almost everyone agrees that The Dark Knight is a much, much better film than Batman Begins. So let's do the math on this: Subtract David Goyer from your Batman writing team and your script gets better?
I'm not saying David Goyer isn't a good writer, I'm just saying maybe we've overrated him a bit. Most of the credit for Batman Begins being good probably belongs to Nolan and if you take Begins off his resume then Goyer hasn't written anything good since Blade II back in 2002… and much as I love that movie it has a pretty questionable ending. Before that he wrote some pretty amazing stuff like Dark City, after that he's written a lot of utter crap like Jumper and The Unborn.
With all the high-profile stuff he's been attached to lately, maybe the Goyer of old will start to resurface. If he does, bringing him in could be a great move for Godzilla. Legendary wants to use this movie to rekindle the Godzilla franchise and turn it into a big deal. If there's one thing Goyer's proven himself able to do over the years, it's kick a franchise off in the right direction. He did it with Blade and, yeah, he at least had some hand in doing with Batman. If the David Goyer who wrote Dark City is working on this script, instead of the one who wrote Jumper, then get ready for something cool. If not, hey remember that Godzilla movie with Ferris Bueller?
Your Daily Blend of Entertainment News