Got Real Boobs? Pirates Of The Caribbean 4 Wants Them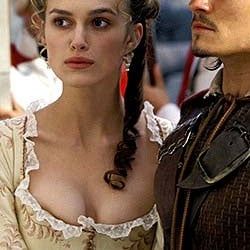 With the early summer start date for Pirates of the Caribbean: On Stranger Tides sailing ever closer, casting directors are feverishly trying to fill out their cast. Some key roles have already been filled by the obvious players --Johnny Depp and Geoffrey Rush-- as well as newcomers to the series Ian McShane and Penelope Cruz.
But what if you need to fill a scene with scantily clad women showing off their bodacious breasts? Well send out a casting call of course. Moviehole got their hands on a casting breakdown recently shipped out to agencies in hopes of landing some ladies who will wear the film's extensive wardrobe better than others. The call reads as follows:
So if you've spent money attaching softballs to the front of yourself, navigate away and forget this even happened. Your self esteem will be better for it. But if you're rockin' what the gods gave you in a big way and are willing to show off your curves in some fancy pirate outfits, get yourself an agent and get your rack to L.A.
Now if only I could send out casting calls like this for Friday nights. Ladies?
Your Daily Blend of Entertainment News
Thank you for signing up to CinemaBlend. You will receive a verification email shortly.
There was a problem. Please refresh the page and try again.