Greta Gerwig Wants Natalie Portman To Ditch Her Friend With Benefits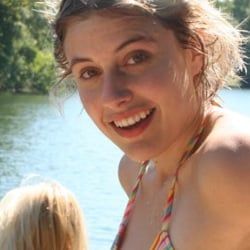 Even though I couldn't stand Noah Baumbach's new film Greenberg, Greta Gerwig was easily the best thing about it. The actress known primarily for tiny budget "mumblecore" films like Baghead and Hannah Takes the Stairs was taking a big leap to the mainstream with Greenberg, and since it paid off-- I wasn't the only one who loved her-- Hollywood seems to be letting her stick around.
Gerwig has been cast alongside Ashton Kutcher and Natalie Portman in Ivan Reitman's upcoming untitled comedy, previously known as Friends With Benefits, according to Variety. Gerwig, bless her, will be playing the smart best friend, who warns Portman that Kutcher, who is her "friend with benefits," is actually falling for her.
The Variety piece also notes that Paramount has given the film a Jan. 7, 2011 release date, which is a little mysterious. January is a famous dumping ground for films of all kind, and comedies in that month-- Bride Wars, Paul Blart Mall Cop, Leap Year-- are almost always abysmal. Sure, Reitman's reputation isn't stellar, and his recent films My Super Ex-Girlfriend and Evolution definitely deserve to dock him a few points. But he's the man who directed Ghostbusters! Can't we have a little respect here?
Staff Writer at CinemaBlend
Your Daily Blend of Entertainment News
Thank you for signing up to CinemaBlend. You will receive a verification email shortly.
There was a problem. Please refresh the page and try again.