Guillermo Del Toro Shepherds Feature Version Of Short Alma At DreamWorks Animation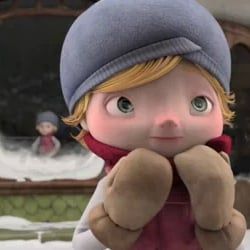 Guillermo del Toro's new residency at DreamWorks Animation has already begun to pay off in creepy, thrilling ways. The Pan's Labyrinth director, who signed a deal last month to make his own films and shepherd others at the animation studio, has set up Rodrigo Blaas to make his feature directorial debut with Alma, an adaptation of his own five-minute short.
Blaas is a Pixar veteran, actually, with credits on Finding Nemo and Up but made Alma on his own time while working at the studio. Watching the short (embedded below), you can kinda see why-- it's got a far spookier vibe and slower pace than the shorts you usually see preceding Pixar features, telling the story of a girl visiting a toy shop that features a doll that very much resembles her. Blaas brought the film to the L.A. Shorts Fest, where he won the award for best animation.
According to THR, del Toro is such a big fan of Blaas that he's also brought him on as a co-director on Trollhunters, the project del Toro is developing for himself while consulting on several other DreamWorks projects. Del Toro has a strong history of shepherding other directors-- he brought Juan Antonio Bayonas to prominence by supporting his haunted house film The Orphanage-- and it'll be interesting to see how that mentor relationship will flourish within a giant studio like DreamWorks Animation. They're making a lot of interesting choices over there, and a feature-length Alma, if true to the spirit of the short, could erase the memory of those crass, uninspired early films entirely. Your move, Pixar.
Your Daily Blend of Entertainment News
Staff Writer at CinemaBlend