Hailee Steinfeld May Join Ruffalo and Johansson In Can A Song Save Your Life?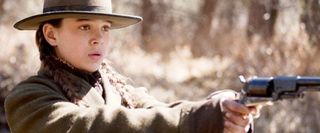 15-year-old ingénue Hailee Steinfeld garnered plenty of buzz off of her Oscar-nominated debut in the Coen Bros' True Grit in 2010. And now, with the rising starlet shooting Romeo and Juliet on location in Italy, THR reveals once this romance wraps, Steinfeld may head to New York to join Mark Ruffalo and Scarlett Johansson in another, John Carney's feel-good musical Can a Song Save Your Life?
Carney earned a reputation for crafting compelling and romantic musicals with his raw and poignant indie Once, which won the Oscar for Best Song in 2008 and launched its humble stars, Glen Hansard and Markéta Irglová, onto the world's stage. In his latest effort Johansson will play an aspiring singer-songwriter who moves to New York City with her boyfriend, who soon abandons her after making it big. Her Avengers co-star Ruffalo is set to portray her love interest, a washed-up record producer who discovers her at a dive bar. Steinfeld is in talks to play Ruffalo's daughter. And as Can a Song Save Your Life? is looking to shoot in June, further casting news and confirmations should emerge soon.
Aside from Romeo and Juliet, wherein Steinfeld will star opposite British inge-dude Douglas Booth (The Pillars of Earth, she's also in talks for a cheekier adaptation of Shakespeare's classic tale of star-crossed lovers: Rosaline, a dark comedy about the girl Romeo dumps before falling for Juliet and committing to a suicide pact. Then later this year, Steinfeld is slated to co-star opposite Hugo's Asa Butterfield in Summit Entertainment's hotly anticipated adaptation of the beloved sci-fi novel Ender's Game.
Personally, I was blown away by Steinfeld's subtlety in True Grit, along with her impressive ability to hold her own against such captivating performers as Matt Damon and Jeff Bridges. So I'd love to see what she'd do in a paired down picture like Carney's Can a Song Save Your Life? Whatever she chooses to be her next movie, hopefully she'll take a clue from the ingénues that have come before and be sure to diversify the roles and projects she takes on to better craft a lasting career.
Your Daily Blend of Entertainment News
Staff writer at CinemaBlend.