Hangover Stars Demand $15 Million Each For Third Film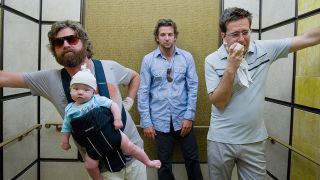 (Image credit: Warner Bros)
Sure, critics hated The Hangover Part II, but the Thailand-set sequel to the 2009 comedy blockbuster The Hangover went on to earn more than $580 million worldwide, so a third film was almost guaranteed. However, negotiations over at Warner Bros. stalled when the films three stars, Bradley Cooper, Ed Helms and Zach Galifianakis, demanded a hefty salary of $15 million apiece, against the backend. Now, it's worth noting that the first Hangover had an estimated budget of $35 million, which included less than a million apiece for its three leading men, who were at the time largely unknown. However, the surprise success of the flick subsequently launched Cooper, Helms and Galifiankis, and with the sequel, each earned roundabouts $5 million - not counting backend compensation - for reprising their wolf pack roles. Now, the three, who had no prior contract for a Hangover sequel, appear to have Warner Bros. right where they want them, and are playing hardball with a united front.
While I'd like to believe this high price tag is a backwards way of Cooper, Helms and Galifianakis attempting to stop The Hangover Part III from happening altogether, it's far more likely that CAA, the agency that is representing each in these negotiations, has clued them in to just how badly the studio wants to expand on this globally lucrative franchise. THR reports that Warner Bros. is soon to buckle to their headliner's lofty demands, so they can proceed with plans to shoot this summer.
WB is hungry for financially bankable franchises, as the Harry Potter film series has finally come to an end, and this July The Dark Knight Rises will complete the Batman franchise (or at least Christopher Nolan's involvement with it). With two of their highest-earning franchises behind them, it's little wonder Warner Bros. would pony up such cash to continue The Hangover. But after the critical vitriol and audience bad will that came about from the last sequel, which many accused of being a shallow retread of the first, will moviegoers come back in the droves required to make The Hangover Part III a success? For what it's worth, the film's producers promise the Wolf Pack's latest adventure, which is set in Los Angeles, "will deviate from the forgotten-debauchery formula of the first movies." So, it seems we'll see.
The Hangover Part III is aiming for a Memorial Day 2013 release.
Your Daily Blend of Entertainment News
Staff writer at CinemaBlend.