The Hobbit Needs Another Fili, Rob Kazinsky Is The New Stuart Townsend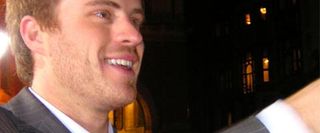 After a lot of problems getting started on The Hobbit, now that production is actually going in New Zealand on the LOTR prequel, the hope was that it would be smooth sailing from here on out. But it wouldn't be The Hobbit if there wasn't something going wrong. Here's the latest: Peter Jackson needs a new Fili.
Fili is one of the thirteen dwarves whom Bilbo accompanies on his journey to defeat the dragon Smaug. Rob Kazinsky was cast as the character, but according to director Peter Jackson he's leaving The Hobbit for "personal reasons".
They've already shot scenes with Rob as Fili, though from the sounds of it, not a lot of them. Of the impact his departure will have Jackson says, "I should say that Rob's departure will not affect ongoing filming of The Hobbit, nor will it impact work done to date, as we had yet to film much of Fili's storyline. At the moment we are shooting scenes featuring Bilbo without the Dwarves, which will give us time to find a new Fili. I'll keep everyone posted with updates as they come."
Kazinsky is probably best known for his role as "Sean" on the BBC series EastEnders, and I guess now he'll be known as the guy who was almost in The Hobbit. It's worth noting that Fellowship of the Ring went through a similar, albeit much more serious, casting upheaval early in its production. Stuart Townsend was originally cast as Aragorn in that film, only to be replaced by Viggo Mortensen the day before the start of filming.
Your Daily Blend of Entertainment News